love camping, but absolutely can't do it without style? if that's the case, Gerber might just have the answer: the Gerber Freescape Series camping gears. the series comprises of a pair of knife – a 3.8-inch kitchen knife and a 3.5-inch sheath knife, a large lantern, a small lantern, a flashlight and finally, a hatchet for chopping your way through the woods.
Gerber Freescape Camp Kitchen Knife (31-002533, $32.75)
inspired by a Santoku chef's knife (just look at the shape of the blade), the Freescape Camp Kitchen Knife features a modified sheepsfoot point and a flat belly designed for food preparation, but at a size that's convenient to bring along on your camping trip. it has a full tang construction, a fine straight edge, a rubberized texture handle with bright green accents for quick visual recognition in low light and it is completely dishwasher safe (not that you have one in the field, but…). its 7Cr17MoV steel is 3.8″ long and it comes with a sheath with belt loop.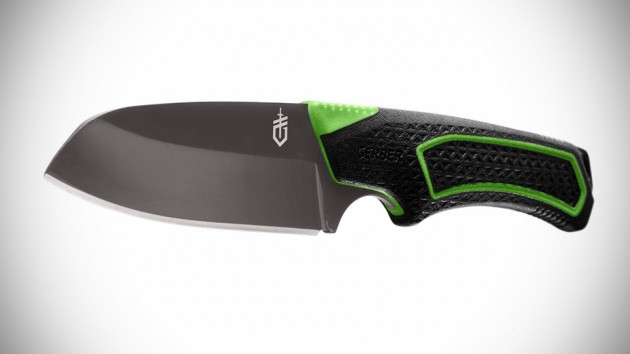 Gerber Freescape Folding Sheath Knife (31-002527, $41.87)
slightly shorter than the camp kitchen knife, the Freescape Folding Sheath Knife's 3.5″ 7Cr17MoV steel blade features a partial serrated edge for sawing chores like severing ropes and twines, and it is also paired to a textured rubber grip with green accents. as the name suggests, it is foldable with a safety to keep the knife lock away when not in use and the same safety also keeps the knife open when in use. it can be used for food prep too and it comes with a neoprene and nylon sheath with belt loop too.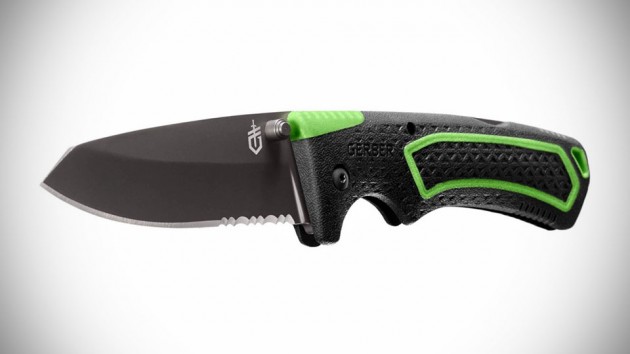 Gerber Freescape Large and Small Lanterns (30-000932 $63.75; 30-000933 $46.63)
and then there are the Freescape Large and Small Lanterns, both touting Gerber's Freetouch Technology that lets you activate and deactivate the light with a simple tap. touching the ring turn on or off the light, and touch and holding dims the 300 or 80 lumens brightness (large and small lanterns, respectively) to the level you are comfortable with. both lamps feature a spring-loaded handle for suspending them overhead on, say for example, a tree or similar structure. the lanterns, as the name implies, differs in size.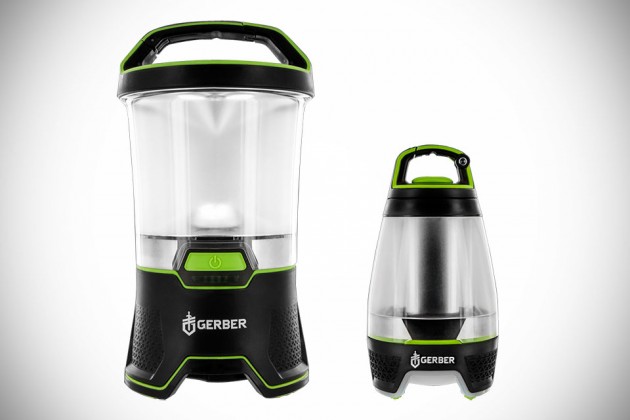 the Large Lantern runs on four D batteries with LED battery status indicator and could last up to 2 hours on 300 lumens, or up to 25 hours on a low 15 lumens. the Small Lantern, on the other hand, offers 80 lumens for 2 hours or 25 hours at a dim 5 lumens from three AA batteries. both have grippy rubber footings to prevent it from slipping away on smoother, sloppy surfaces and are rated IPX4 for water resistant. the Small Lantern emits light from the frosted side lens, as well as through the bottom of the lantern, making it suitable as a table lamp or over head light source.
Gerber Freescape Flashlight (31-002560, $74.82)
the Freescape Flashlight provides an even more portable lighting solution and it is IPX7 rated, which means it could sustain water immersion for up to 30 minutes up to a depth of one meter. it offers three modes of lighting: red – from an Osram RED LED, and Low and High output from a CREE XPG LED. it is powered by two AA batteries good for an hour of High 200 lumens output or up to 8 hours on Low 50 lumens output (RED LED is 40 lumens, btw). it has a unique anti-roll shape, also accented in prominent green for easy night time identification and is operated via a tail cap switch just like any other tactical flashlight.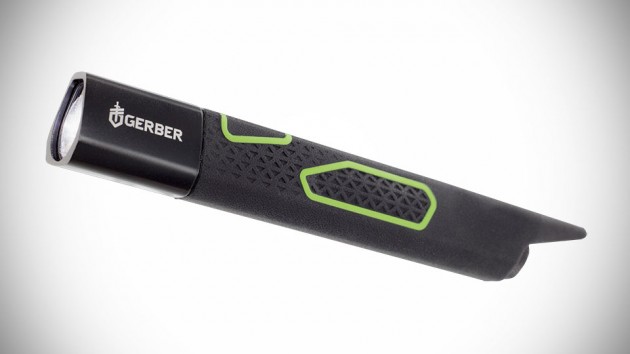 Gerber Freescape Hatchet (31-002536, $52.10)
last but not the least, is the Freescape Hatchet aka axe, boasting a forge steel axe head with harden blade for any chopping and pounding duties. so yes, you can hammer things with it like most axes can. it has a solid composite handle with soft touch over-mold and bight green accents, so you won't leave it behind in the dark.