when it comes to Bugatti, Veyron in particular, everyone including those who can't afford it, has high expectations, even more so when it is an edition that pays homage to the company's patron Ettore Bugatti and hence the name. so, no. the post title wasn't a typo. as you might have expected, the Bugatti Edition takes on the design and styling cues from Ettore's very own creation, the Type 41 Royale and is based on the 16.4 Grand Sport Vitesse, which means it is push forth by a 8.0-liter W16 unit with 1,183 horsepower on the tap and a century sprint of a scant 2.6 seconds, sending it on its way to a breathtaking top speed of 254 mph (408 km/h).
as you can see, nothing is slowing it down, which is a good news for all Scrooge McDuckian who are already digging for their check book, but the highlight of this special edition is not what lies under the hood; it is the features and equipment that will lure those wealthy buyers to part with a chuck of their assets. these includes a body of clear-coated carbon and hand-polished aluminum, a set of eight-spoke diamond-cut wheels in dark-blue finish, finest cordovan leather with dark blue exposed carbon accents on the inside, and a platinum-coated dancing elephant – inset in the cover of the rear center box – reminiscing that of the hood ornament of the Type 41 Royale. even the switches are wrapped in the same fine leather – a reminder of Bugatti's obsession with attention to detail.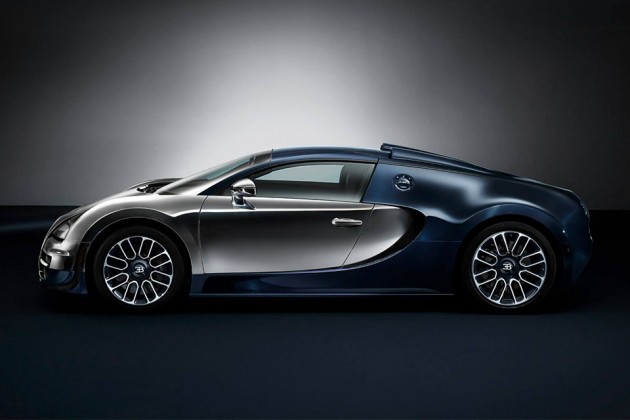 the exposed carbon elements are also found on the exterior of the car in areas including the vehicle's rear, sill panels and A-pillar. last but not the least, this luxury supercar also bears the signature of Ettore Bugatti, which can be found at the doorsill, fuel cap (which the owner will be seeing very often, if you know what i mean), and the rear diffuser. so how much for such an exquisite sports car? we have absolutely no idea, but it is safe to say it is in the region of, well, astronomical.