the love for horsepower and speed, comes as natural as breathing, but not so much if you also happen to have the love for Sports Utility Vehicles. in case you have these weird love combo, then you really have to check out the Range Rover Sport EVR. set to debut at the upcoming Pebble Beach event, the Range Rover is powered by a supercharged V8 engine, pumping out an impressive 550 hp and turning out a little over 500 lb-ft of torque, which are put to all four wheels via an advanced ZF-8HP70 eight-speed automatic gearbox. this new found power and torque enables this off-road capable, luxury vehicle to launch from standstill to 60 mph in just 4.5 seconds and to an electronically limited top speed of 162 mph (260 km/h).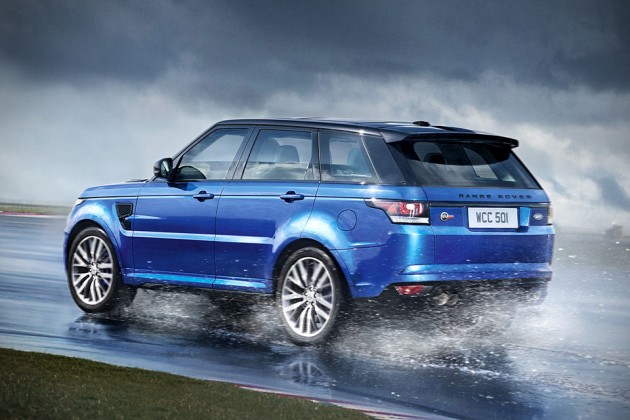 one-hundred-and-sixty-two may not sound like a lot for performance car, but heck, this is a SUV we are talking about and so yeah, it is probably enough to get the balls up the throat for most people. with those figures, the Range Rover Sport SVR is officially the fastest and most powerful Land Rover yet and it is the first model to wear the SVR designation. think SVR as the GTO, GTR or any GT equivalent (or sort) that the group will be adopting for future Land Rover and Jaguar high-performance models. and oh, it has also clocked one of the fastest times at the Nürburgring Nordschleife with lap time of 8 minutes and 14 seconds.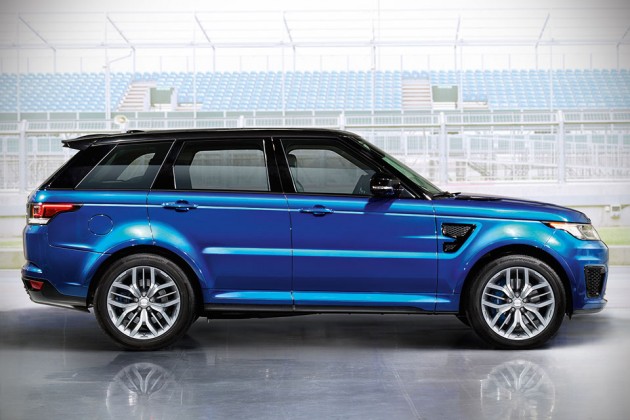 it is indeed one ride that Land Rover is particularly proud of and thus, not surprisingly, it also packs quite a fair bit of drool-worthy features, including unique 22-inch allow wheels wrapped in performance-optimized 295/40 R22 Continental SportContact 5 rubbers and a two-stage active exhaust with electronically controlled valves for that sweet V8 soundtrack – both which are first for Land Rover. though it is worth noting that the 22-inch rolling stocks are market dependent, but in any case, you will at least get a set of new 21-inch alloy matched to 275/45 R21 all-season tires.
other highlights include an all-aluminum monocoque that claims to weigh 39 percent lesser than its predecessor, two-speed transfer case with low-range option for demanding terrain, 50/50 percent torque split, upgraded air suspension system which automatically varies between two ride heights, fully-independent aluminum suspension boasting exceptional wheel articulation, six-piston Brembo brake setup, wade up to 850mm of water with 'depth' information when driving through water, up to 3 tons of towing capacity, and a bespoke interior featuring unique sports seats. no word on the official release, but we do have heads up on the pricing; it will have a starting price of $110,475.