You probably can't make a PC out of an Imperial Shuttle's model and so, the Deepcool x Bill Owen Tristellar S PC Case you see here, is probably as close as you can get to one. Inspired by Star Wars and "spaceship," this PC case is as outlandish as it is cool, and so if you are looking for something along those lines, it is the case of choice. No doubt about it. But wait. Can you really fit everything into this thing? Apparently, you can, well, with a little trade off on the mainboard, which you have to go for mini-ITX, as opposed to the regular ATX boards.
Other than that, it can take in as much as a typical regular case, including a graphics cards of up to 320 mm in length and standard ATX-sized power supply units. If those ain't enough to convince you, it also have space to accommodate a 120mm liquid cooling radiator, if that's your cuppa, or an 85mm tall CPU air cooler. As you can see, the innards of a regular computer has to be split into three chambers – which is probably not a DIY job for the inexperienced, I must say. If you're already having trouble with a regular chassis, then this is definitely no-go, but if you have $599.99 to drop and the dedication because it looks like an Imperial Shuttle you love so dearly, then by all means and grab this, because it is definitely going to be talk among all your friends.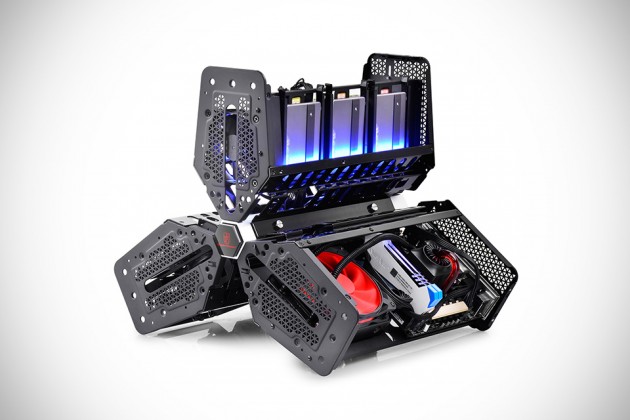 And oh, this "spaceship" chassis has rubber feet instead of hydraulic landing gears and since it has three chambers, heat relieve shouldn't be a huge issue. The top chamber is where you will install the graphics card and up to three 2.5-inch SSDs, viewable through windows on either side of this section. On the right is where your mini-ITX board will call home, and on the left, would be the PSU, along with another two more HDDs. Remember when we said this ain't for amateur? Well, that's because routing the cables could be a challenge, as they are all directed through the connecting "central core," which we imagined would be likely a curse-and-swear process. But, maybe just the impatience me and hence my speculation; so don't take my words for it.
Notwithstanding the high price tag, a case of such beauty could be a hotcake and having just 50 units made available, doesn't quite help too. So if you want one, we'd suggest you be on it fast.