The Fusion Guitar may look a regular guitar with an slightly odd shape, but it is in fact an all-in-one guitar that has everything you need to compose or perform on-the-road without lugging along numerous pieces of equipment. It is an electric guitar. It is a guitar amp complete with speakers, of course, and it is the many effects and pedals you may need – all in one compact package that's still smaller than a traditional acoustic guitar. Fusion Guitar leverages on the wide variety of iPhone apps to enabling learning, recording and performing, and features an iPhone dock, located atop of the guitar for easy access and viewing.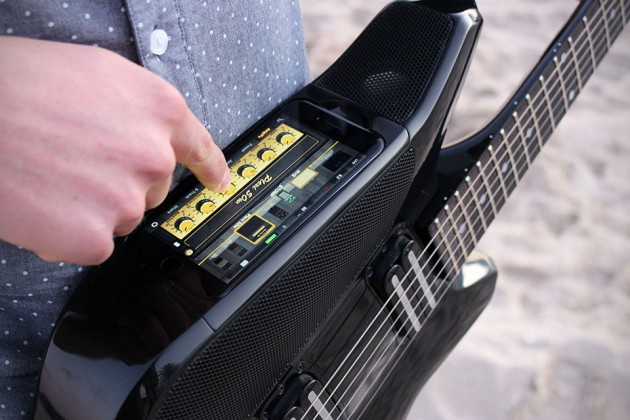 Beginners can view Youtube videos as they learn the trade, while musicians can benefit from the various pedals app to add effects into their play. It can even record too, allowing you to mix your recordings, which essentially, makes this guitar an on-the-go recording studio and you, the one-man-band. It has two humbucker pickups, a 11.1V lithium-ion battery pack for up to 12 hours of play, an integrated 20W low noise distortion amplifier and two 30W European-designed Tymphany Peerless full-range speakers and a high/mid-range driver – all driven by the aforementioned amplifier. There's of course, an iPhone dock with a changeable Lightning connector, which also charges your iPhone, so you won't run out of juice too soon.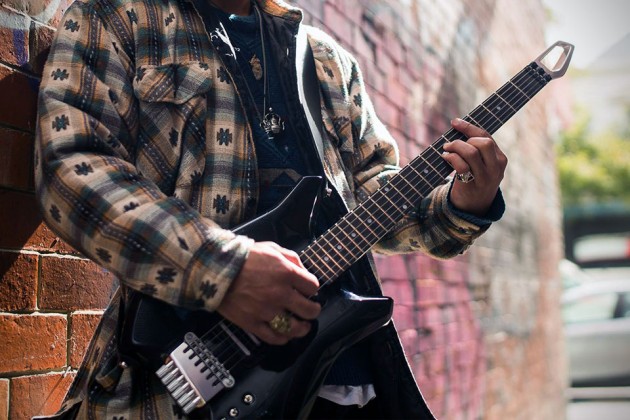 Other worthy mentions include a full-scale maple neck with rosewood fingerboard, an impact resistant polymer/fiber composite body, pickup selection, volume knob, 1/4" direct guitar out jack for use without iPhone, 3.5mm stereo line out for headphones, guitar amp and such, 3.5mm line-in for external microphone, DC power socket for charging, automatic power save function, easy string change design, and finally, a compact headless design.
The Fusion Guitar is on Indiegogo, seeking to raise $35,000 to take the guitar to production, but it doesn't need to worry about its funding goal, even though it is on flexible funding, cos' it has it is already more than 620 percent funded with nearly 600 backers behind it. Expect to shell out $779 for the Fusion Guitar, but there's one more early bird special at $399 left on the shelf, so if you want that, you'd better act fast.