Since the launch of Apple Watch, we have seen our fair share of stylish Apple Watch docks, but this one from Native Union really blew our mind. As far as luxury goes, Native Union DOCK for Apple Watch Marble Edition ranks high up on our must-have style chart. It needs no gold or precious stones to spell luxury, or should we say, classy? As the product name suggests, it is actually the marble version of DOCK introduced a couple of months ago. In place of the 'cheaper' silicone structure, it is of genuine solid marble, coupled with brushed aluminum arm.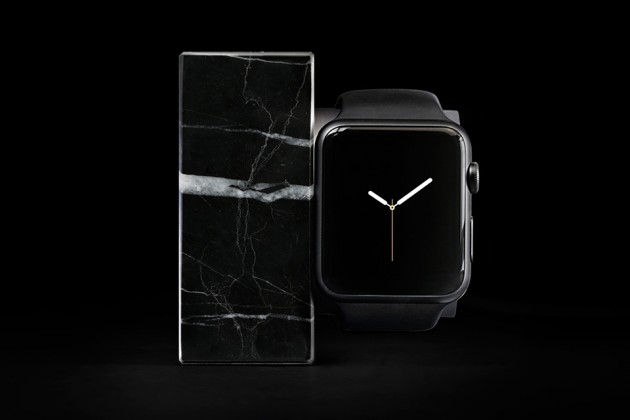 Marble, being heavy by nature, ensures the dock stays put, allowing you to comfortably use and navigate the watch face when it is charging. Aesthetically, the unique and intricate veins of the natural marble assures that no two pieces are the same. Like the original DOCK, the aluminum arm rotates on a gearing system, affording smooth and yet firm control of the angle of the watch. Despite it being a two-piece accessory, DOCK has no screws; the components come together magnetically, lending it a contemporary art piece look. The Apple Watch's magnetic charging cable is fed into the dock and the circular magnetic charging pad is securely lock in place.
In addition, the arm is reversible. Meaning, it can be position on either side of the marble structure, whichever that's more convenient for you. It can be used horizontally, or vertically, though we are more incline towards the latter. Well, the thing is, Apple Watch's Night Mode is only activated when the watch lays on its side. But I guess you can always switch between horizontal and vertical as and when it suits you, so shouldn't be a biggie. Available in a choice of white or black solid marble, the DOCK for Apple Watch Marble Edition retails for $119.99 a pop.