Transiting from cars to aircraft and vice versa is a norm, but if you one of those who prefers to transit from your motorcycle to aircraft, the Wheelrider Carry-on Motorcycle Top Case by Restless Travellers is the suitcase for you. Touted as the world's first solar-powered travel carry-on motorcycle top-case, Wheelrider is what it says it is: it is a motorcycle top case and a fit-for-airline carry-on with solar panel to boot. Wheelrider comes as two-part accessory covering your motorcycle-to-aircraft globetrotting needs.
The first part is the top case/luggage that's made of multi-layer pure poly-carbon sheets (there's also a full carbon fiber model if you opulence is your cuppa) and the second part is the bike-mounted base, which is made of injection molded ABS. A lock, which employs "new generation of keys" secures the top case slash carry-on hybrid's built-in six-point lock-in plate to the bike-mounted base. By now, I am sure you know where Restless Travellers is getting at. It basically wants you to have a hassle-free bike-to-aircraft transit without the headache of "how am I going to transport the luggage?" if you were to chose to ride a bike to the airport.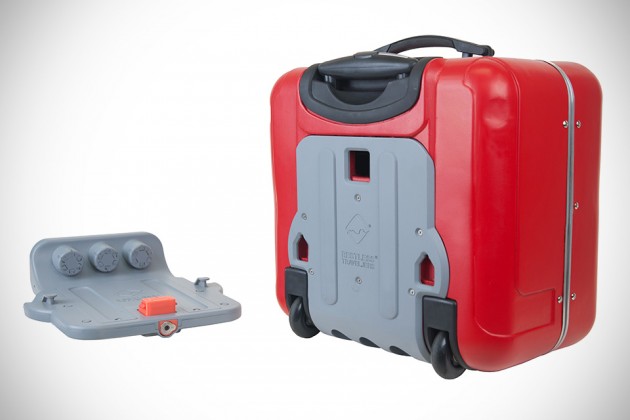 There's a catch here though; it comes in two sizes: L and M. The former allows for a helmet to be stored inside, but it won't fit airline carry-on requirement. The latter, however, complies to most airlines' hand carry luggage requirement, but with the tradeoff of not being able to stash your full-face helmet in it. When Wheelrider is detached from the base, the base serves as a resting place for your helmet, replete with steel helmet lock to keep your helmet safe from ill-intention, criminal minds. Optional helmet and seat covers are available if you want to keep the bike's seat and your shiny helmet shield while you are away.
Interestingly, there is a solar panel on the top side of the case that charges a USB port-equipped battery pack found on the inside of the suitcase, which you can use to keep your USB-powered gizmos charged. Speaking of inside, Wheelrider offers ample storage space, including the requisite compartmentalization for notebook, writing instruments, brochures/maps, and even a padded slot for your laptop. Baggage security is offered by a FTA International combination lock and it, of course, have wheels and telescopic handle for ease of mobility.
As exciting as Wheelrider Carry-on Motorcycle Top Case is for jet-setting bike lovers, it is not quite a reality yet. It will be, if enough like-minded folks swoon over its Kickstarter campaign. That said, if you want to help to make it a reality, you can pre-order one and keep your fingers crossed. Surprisingly, it is not too dear, costing between $190-$310, depending on how soon you act on it. Keep going for a product pitch video to see it in action.
submitted via TIP US page.