If you haven't already know, Citroen's luxury vehicle division is now its own brand. Rightfully named DS Automobiles, the French automaker has been dishing out some pretty looking rides for a while now, but come this March in Geneva, it is going to debut its most exciting, or should we say, intense, ride yet: the DS E-Tense Electric Supercar and boy, does it look awesome. While it is refer to as a supercar, the DS E-Tense does not quite have the horses you expect of one, but the performance is no less a head turner as do the look of the car.
This 4.72 meter (15 feet 5 53/64 inches) long and 1.29 meter (4 feet 2 25/32 inches) full carbon fiber-bodied coupe's all-electric drivetrain draws the required electricity from lithium-ion batteries to generate an exhilarating 402 horsepower and 526 Nm (387.9 lb-ft) of torque which is good enough to take this 4,000-pound (1,800 kilograms) electric sports car from naught to 62 in 4.5 seconds and sending it on its way to an electronically limited top speed of 155 mph (250 km/h). The under chassis lithium-ion batteries help to keep the center of gravity low and affords even torque distribution between the axles, while offering a range of 360 km (224 miles, urban cycle).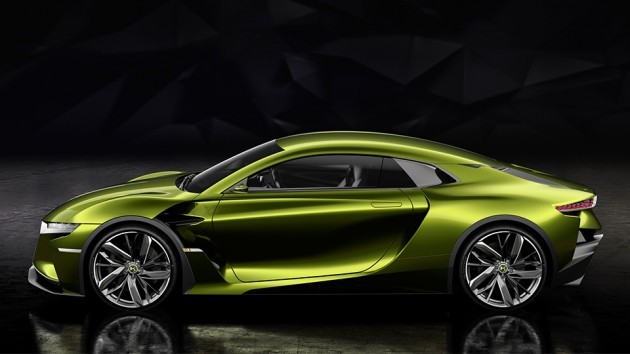 Design-wise, it is, as mentioned, a beauty. In fact, at the first glance, it looks kind of Bugatti-ish with tint of R8-esque and it bears the design cues you may have come to expect of an exotic performance car. The form begins with the Bugatti-esque, muscular front based on the current design language found on the 3, 4 and 5 that connects with a steeply raked front windscreen and continue forth to a gently-sloping roofline. Further down, past the windscreen-less rear (it uses a digital rearview system), the flowing form ends with plumped wheel arches, which together with the (also plumped) front, offers a stance that's bound to turn heads.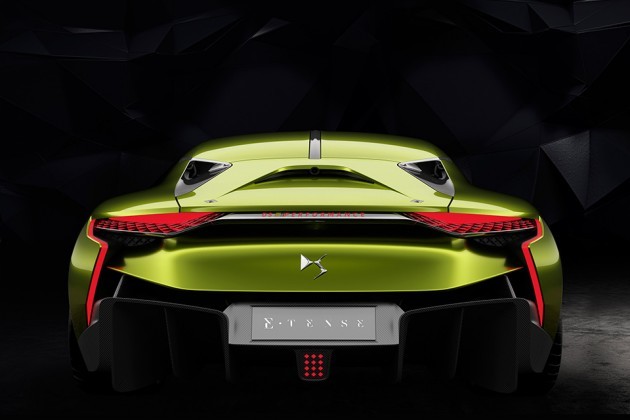 The interior hasn't showed yet, but DS did highlight that it took 800 hours to design, test and produce the interior. Interestingly, the car also boasts a one-off edition watch by BRM Choreographers designed exclusively for the driver of DS E-Tense and it can be worn on the wrist or affixed to the car's console, viewable while driving.
Though the future of the DS E-Tense hasn't been revealed, but I am sure it is likely to be reality than a pipe dream. Though we could be wrong. Still, it is an exciting prospect. DS Automobiles will be debuting the E-Tense this week at the Geneva Motor Show.