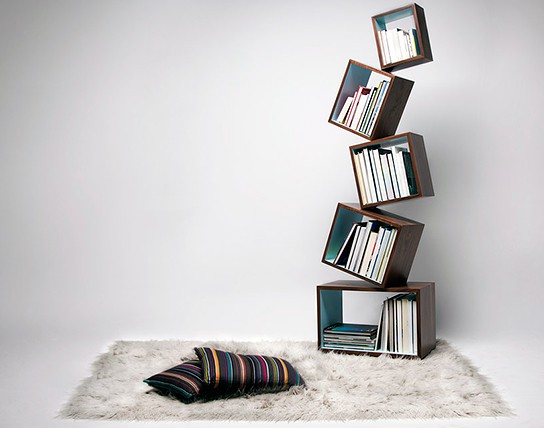 (image credit: Monica Barreneche) Equilibrium Bookcase | US$1,090.00 | www.malaganadesign.com
normally, keeping your books together on a bookcase would requires bookends but here's a radically designed bookcase that set to challenge that notion. designed by US-based designer Alejandro Gomez for his studio Malagana Design, the Equilibrium Bookcase features module (aka individual bookcase) of different sizes, stacked at an angled to form a towering 6.5-feet high bookcase.
[ad#Google Adsense-text-468×60]
despite its flimsy look, the Equilibrium is capable of bearing 54 kilograms (120 lbs) of weight, distributed across its five compartments. it sports a walnut veneer exterior, while the interior is available in a choice of colors, including white, celeste blue or graphite. custom colors are available by request. each bookcase is connected to another by means of a steel joint. as you can see, the bookcases are cantilevered in an angle that forces the load of the weight towards the center of the Equilibrium, thus keeping it in balance. the tilt design eliminates the need for bookends since the force of the gravity will keeps the books together with the exception of the bottom case.
beside looking great, the Equilibrium also has a couple more unique features. the bookcase can be disassembled quickly and easily without the need for tools or special hardware and the disassembled units can be fitted into the two largest unit for easy, space saving storage. check out a few more images of this unique bookcase after the break.
the Equilibrium is available for order online for those residing in the US with a price tag of $1,090. those who resides outside of US, do not fret as you can email Malagana Design to work out the ordering details. there is always hope, as long you have the money to spare.
via Design Boom