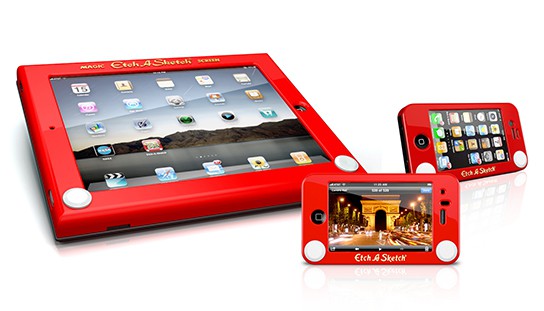 Etch-A-Sketch protective case | from US$24.99 | getaheadcase.com
remember Etch-A-Sketch? the magical doodle board that you used to entertain yourself at the backseat of the car as a child when your dad drove you to your grandparents'? i guess we all have some nostalgic feel towards our childhood toy and thanks to HeadCase, we can now have a piece of yesteryear toy without actually carrying a real one around, looking silly. new from HeadCase and officially licensed by Ohio Art, makers of the original Etch-A-Sketch, are the Etch-A-Sketch cases for iPad, iPhone and iPod Touch. ah.. now we can carry our fond memories around without looking like an overgrown kid. isn't that sweet?
HeadCase Etch-A-Sketch protective cases are available for iPad, iPhone 3/3GS/4 as well as iPod Touch and price starts from $24.99 for iPhone/iPod cases, while iPad version cost $39. Etch-A-Sketch cases are available via HeadCase web store.