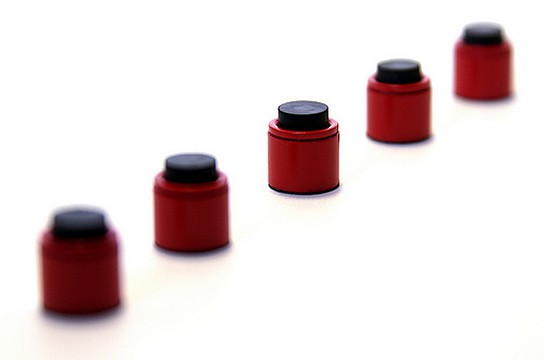 (image credit: Joystickers) Joystickers Classic | US$30.00 | www.joystickers.com
remember the JOYSTICK-IT and Fling Tactile Game Controller? now there's a new kid on the block seeking funding for yet another joystick made for capacitive touchscreen but this time round, it is in the form of a button. the tiny buttons, dubbed the Joystickers Classic, resembles a small electronic button switch with suction cup at the bottom. the Classic promised to bring back tactile button feel to your gaming experience. it will work with games that has 'action buttons' and any devices that has capacitive touchscreen, such as the iPad, iPhone and Android handsets.
as oppose to the JOYSTICK-IT and Fling Tactile Game Controller, Classic is a button-only contraption hence it does not have directional control. the plus side is, for games that has more than one action button close to one another, the Classic's small foot print enables you to put two of them side-by-side. having a small footprint also means it won't hinder your game play experience and it will also work well with smartphone. something which the previous two joysticks can't because of their size.
Joystickers are currently asking for support to make the Classic a reality and if you are keen on this product, head on to their Kickstarter page and make your pledge. a minimum pledge of $30 will get you a pair of the Classic, a microfiber cleaning cloth and a carrying pouch. Joystickers has two other products in the pipeline, both which are styluses. the first is the Scribe, a pen-like stylus that comes complete with a pen cap and the second is the Flow, which imitates closely to a real paintbrush. catch their intro for these three products video after the break.