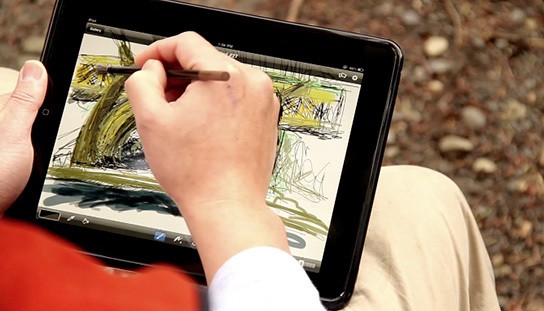 (image credit: Nomad Brush) Nomad Paintbrush Stylus | US$24.00 | www.nomadbrush.com
who would have dream that one day we would stop using our fingers to paint on our iPad? well, the dream is no more with Nomad Paintbrush which sport a mix of both conductive and natural fibers at the end of its walnut and carbon shaft. it can be used with apps like Artrage, Brushes, Auryn Ink and Zen Brush but i guess no harm giving the brush a go with other apps. as with all things that resemble the real-world or traditional counterpart – don't get it mixed up with the real paint-dipping brushes or you will just ruin a perfectly good iPad brush.
the Nomad Paintbrush Stylus retails for $24 and its available on Nomad Brush web store.
via Gizmodo