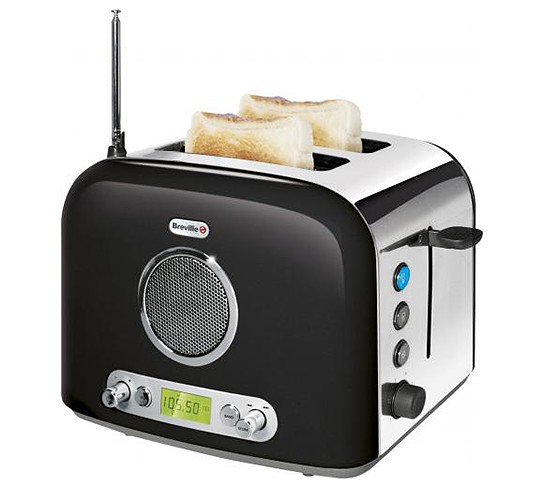 (image credit: Breville) Breville 2 Slice Radio Toaster | £49.99 | www.breville.co.uk
if you are one of those who needs a little music and toasts to kickstart your day, Breville has a solution for you. introducing the Breville Radio Toaster, or is it a Toaster Radio? either way, this nifty kitchen gadget will ensure you get your daily morning fix for both music and toast – simultaneously. sounds wonderful. isn't it?
on the toaster end, the Radio Toaster features a 2-slice variable wide slots catering to both thin and thick slices of bread and the variable browning control ensures the toast turns out exactly the way you wanted it. it also supports common duty expected of a modern day toaster such as reheating and defrosting, and it allows mid-cycle canceling, in case you decided to abort the whole toasting thing.
beyond its retro-ish appearance, it has a non-retro element slapped onto it – which is the toaster's music department in the form of a FM/AM radio with ten preset radio channels. an illuminated digital display shows you what channel you are on and an auxiliary-in is present, just in case you find the morning radio sucks and you needed an MP3 to save the morning from turning into a disaster.
the Breville Toaster Radio retails at £49.99 (about US$81) which is inexpensive, considering it has two functions rolled into one. sure, you can always have a toaster and a music player on your breakfast table, but why not cut the clutter with a one piece gadget and in the process, freeing up the space for more toast? sounds like an awesome idea.