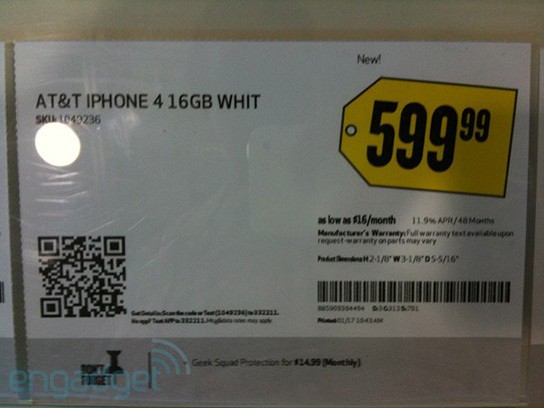 (image credit: Engadget)
when iPhone 4 was announced i was full of excitement, and readied myself to grab the white iPhone 4 but unfortunately, Mr. white iPhone 4 was unable to turn up for my taking due to some apparent issues with the white paint job. that was like more than six months but my urge to get a white iPhone 4 has since subsided. not surprisingly, as the saying goes 'time heals'.
nevertheless, for those who are still hoping to get your hands on the white version, the wait is nearing an end or at least, it seems to look that way. as reported by Engadget, a shelf tag was spotted at Best Buy indicating 'AT&T iPhone 4 16GB WHIT' retailing at $599.99. just how legit this photo-snap is, well, your guess is as good as mine. in fact, Best Buy is not the only one, Bell also has shelf tag indicating white iPhone 4's availability.
good luck to the white iPhone 4 lovers, at least you can quit thinking about purchasing the white case to replace the black (and risk ruining your warranty).
white iPhone 4 shelf tag spotted at Best Buy!