If Hollywood has taught us anything, it would be the idea of 'future' is about gestures and voice control. These two controls have already become realities of life but in the case of voice control, it is just making to drone now and the Flypro XEagle Voice-controlled Smart Flying Drone is among the very first to sport such technology. Though we are not sure if it is even a good idea given that the maker's expected use of this quad-rotor drone is in sports, such as surfing, where crashing waves may drown the voice commands. There's no telling how well the voice control works; though those who visited CES this year would have a better idea – if there's even a demo at all.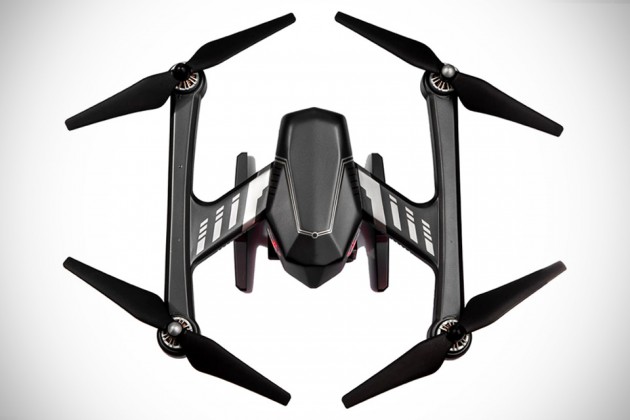 Nevertheless, it is pretty intriguing concept, but wait, this is no concept, apparently; it is actually going to be available next month, priced between $455 and $895. Aesthetically, XEagle looks pretty sleek (at least, much better than DJI Phantom, in my humble opinion). Apart from the voice control capability, activated by barking commands into a high-tech looking wrist worn 'watch', XEagle is pretty much the imaging drone you may have come to expect. The watch, called XWatch, deserves some special mentions as it actually has a display that lets you in on the aircraft's telemetry such as battery status, WiFi strength, current mode of flight et cetera. At a press of a button on XWatch, you can command it to return to 'home', land, or take-off, which is super convenient.
As for the hardware, it is powered by four motors and boasts in-built obstacle avoidance system and a variety of fail safe measures to ensure it won't fall out of the sky if anything were to fail. It has four two mode of flights, namely follow and orbit, which as mentioned, you can switch on the fly from the watch. Other data include maximum follow speed of 15 m/s, 5,000m max altitude, 22 minutes flight time offered by its 5,200 mAh battery, built-in GPS with GLONASS, and it comes outfitted with a 1/2.3 CMOS sensor camera with F2.8 lens. The camera is capable of recording in 4K, 2.5K, 1080p, as well as 720p (@120fps).
There's also a "gimbal intelligent tracking" that ensures the camera lens is aimed at you all the time and of course, live footage stream in HD to your smartphone from up to 500 meters. Like many such drones, your handset can be mounted atop of the remote control. There's no mention of headset support though, but you can always do that with HDMI out from your device, should so desire. Finally, there's the UAV black box which, as the name suggests, records flight data like real aircraft and stores them SD card so you can review if there's any flight issues, or God forbids, it crashes. Keep going to catch the official product video.