Frying pan, frypan, or as some would call it, skillet, is a great invention but I bet its creator (or creators) didn't think the aftermath, i.e. the inevitable splatter of grease and oil, would be a problem for us, the future folks. When this kitchen wonder pan was invented, people probably didn't care much, or perhaps, there weren't frying bacon as much as today's people. Instead of reinventing the wheel to turn up a super high wall pan to prevent the said 'aftermath', avid home chef and inventor came up with a brilliant solution called Frywall.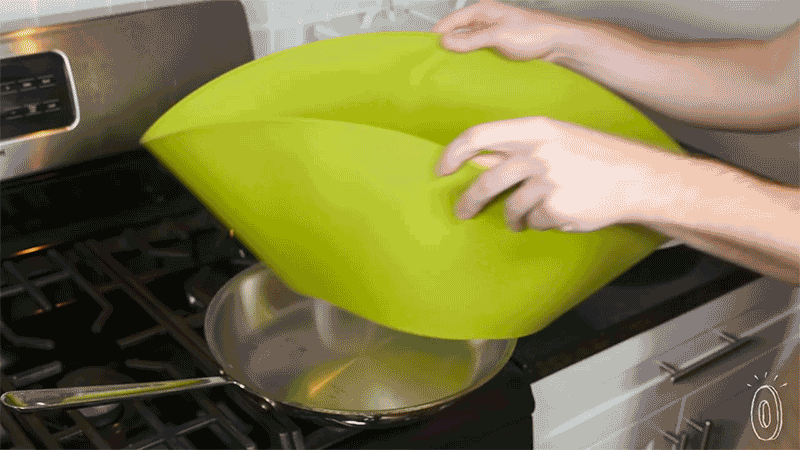 Frywall is a high heat resistance silicone cone that resembles e-collar (AKA cone of shame) for pets but designed to fit inside a frying pan to create a 'wall' to prevent grease and oil from crossing the boundary, thereby saving you the hassle of cleaning afterwards. The cone has a specially thought out angle that allows unhindered access to the pan and it is designed in such a way that it does not go all way to the bottom of the frypan so you will have the full real estate to manipulate the food.
When you are done with the cooking, you can just drop it in the dish washer, or if you are feeling hardworking, clean it with soap and water – a task that is definitely way easier and less time consuming than digging around the stove for the splatters. But I am guessing this isn't for everyone. For one, it is not cheap. It cost $21.95 for the 10-inch version and $28.95 for the 12-inch variety. Also, when deployed, it does bump up the height of access significantly and so, if the users happen to be just the right height with the stove, the added height may pose some inconvenience, if you know what I mean. See it in action in the embedded video below.
Images: The Grommet.
GIF via Gizmodo.
The Grommet via Gizmodo