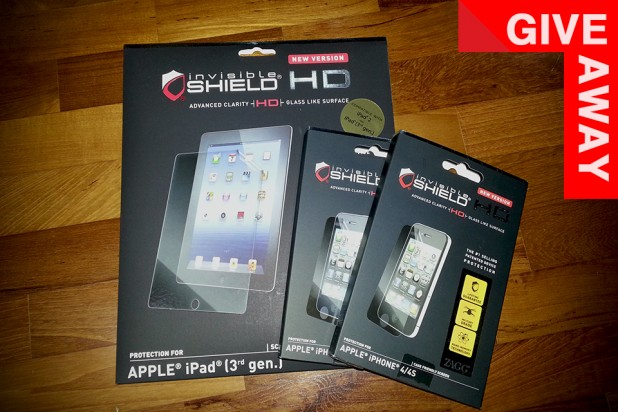 we can tolerate scratches anywhere on our iPad or iPhone except for one very sacred place: the beautiful Retina display. yeah, we know Gorilla Glass is awesome in offering more than reasonable protection against scratches on these devices but for the extra cautious bunch, they opt to use screen protectors for that extra peace of mind and to which we thought ZAGG Invisible Shield does the job pretty well. what? you already have one on your device? but you do know that screen protectors are actually expendables and chances are you will want to replace it at some point in time and that brings us to this great news: we are giving away a ZAGG Invisible Shield HD for iPad (3rd Gen, worth $34.99) and two ZAGG Invisible Shield HD for iPhone 4/4S (worth $29.99) to three lucky winners (unfortunately, we can let winners choose which item they will receive – it's random kind of thing. sorry)
so what do you have to do to lay your hands on one? simple: all you have to do is…
1. Leave a comment below. really just say anything, praises, suggestions or whatever.
2. Like us on Facebook (hint: just hit the 'Like' in the Facebook box on your right) and that's it.
we'll pick three lucky winner on the November 4, 2012. oh, and the best part is, you can be anywhere in the world to have a shot at winning one of these awesome screen protectors.
UPDATE: looks like we have a lone winner and that's James. congratulation James. we will be in touch, shortly 🙂