i know the case surrounding the much blown up #bendgate is pretty surreal, but then it strikes me that the risk is very real when i realized that i do, unknowingly, slips my Nexus 5 into my back pocket and sitting on it. thankfully, Nexus 5 is not thin enough to be susceptible to bending and even if it did, plastic is not as malleable as aluminum and so, i won't know at all. anyhow, that's a harsh truth that even a thin form case won't save the day. enters the Gresso Titanium iPhone 6 Case, a case specifically tailored for iPhone 6 and crafted from grade 5 titanium. with titanium hugging your precious iPhone 6, bending is virtually non-existence and as boon, it kind of 'soups' up the aesthetic, especially if you are not all for the rounded edges of the new iPhone.
theoretically, it should improve the grip too since the Gresso Titanium iPhone 6 Case does have a lot of edges. thanks to the generous chamfered edges, it won't look like a blown up iPhone 5 or 5s. the case is of a two-piece construction, comprising of a upper and lower protective frames held together by hinges and patented magnetic lock system, while offering access to all buttons and ports. the inside is lined with soft lining to ensure your aluminum cladded iPhone 6 remains free from scratch while nested within the super strong metal case. the titanium aesthetic is further enhanced by directional polishing which took four hours to execute. the back is decorated with simple design, interjected by Gresso's logo and the side of the upper frame, a polished Gresso signature logo offered in three styles: titanium, 18K yellow gold, and a 18K white gold.
so what's the price of such luxury? the Gresso Titanium iPhone 6 Case with titanium Gresso signature logo goes for $2,000, and the 18K yellow gold and 18K white gold version will run you back at $3,000 ea. in addition to the titanium case, you will also receive a certificate of authenticity and a classy wooden gift box to rest the case in with the acquisition.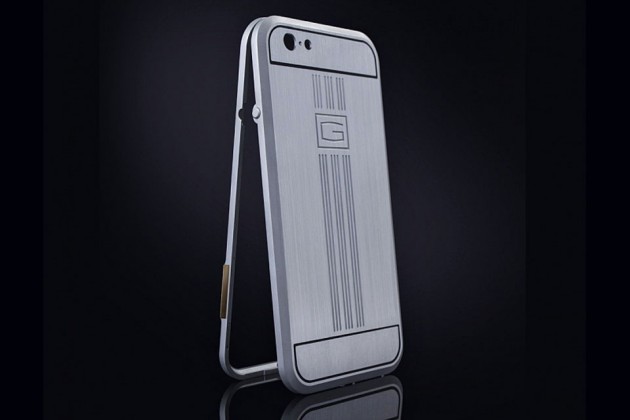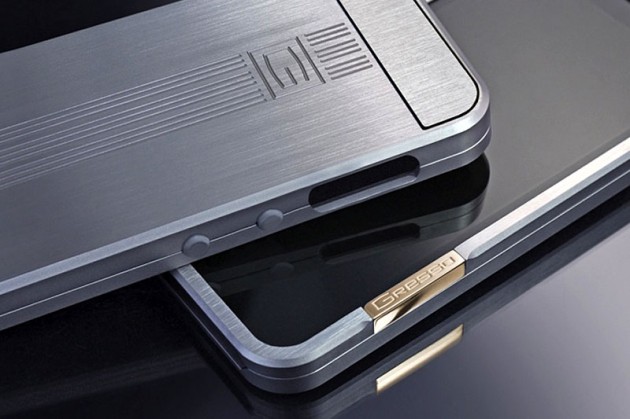 Gresso via Damn Geeky