Finally, March arrives and so has the Honda 5-Door Civic Hatchback Prototype which we had a sneak peek sometime in mid February and it looks pretty awesome and surprisingly, sporty. Like, really, really sporty. Even Honda can't help but to claim that this would-be 10th generation Civic is the sportiest Civic ever. It has a low, wide stance and a long wheel that would translate to a roomier interior. The first European Civic will be available with Honda's all-new 1.0L and 1.5L VTEC Turbo petrol units, and a revised 1.6L i-DTEC diesel variety (EU only) will also be available. Here's what Honda has to say about the power plant:
"The all-new engines are part of Honda's growing Earth Dreams Technology range and aim to deliver a combination of dynamic performance, a class-leading output for their displacement and excellent fuel economy… Based on a completely new engine structure and harnessing newly developed turbo systems, the petrol engines feature variable valve motion technology to reduce friction and achieve class-leading output and environmental performance. A turbocharger with a low moment of inertia and high responsiveness, together with direct injection technology seek to achieve an optimum balance between high output and torque, above those of conventional naturally-aspirated engines."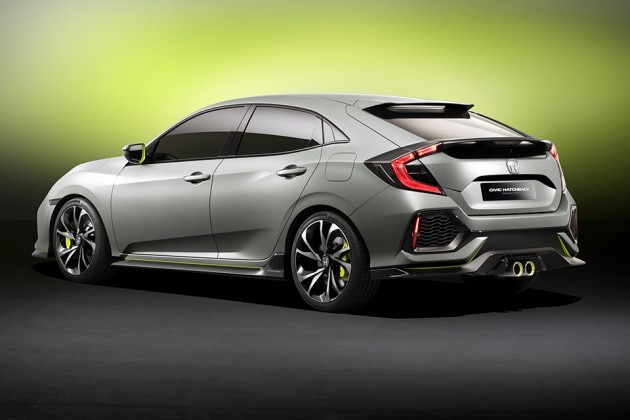 Availability is planned in early 2017 for Europe with the cars being built at Honda's European production facility in UK. We are glad that Honda has finally shed its conservative design for Civic, which we think its kind of overdue. But I guess, its never late than never. Anywho, the all-new Civic hatchback will be 30mm wider, 20mm lower and 130mm longer, and it will be outfitted with new larger and wider wheels and tires, attributing to its sporty stance. Naturally, short overhangs are expected of such cars like we seen before in the R. Other key details include LED headlights and daytime running lights, boldly sculpted hood (indeed very bold!), accentuated wheel arches, and C-shaped LED rear lights.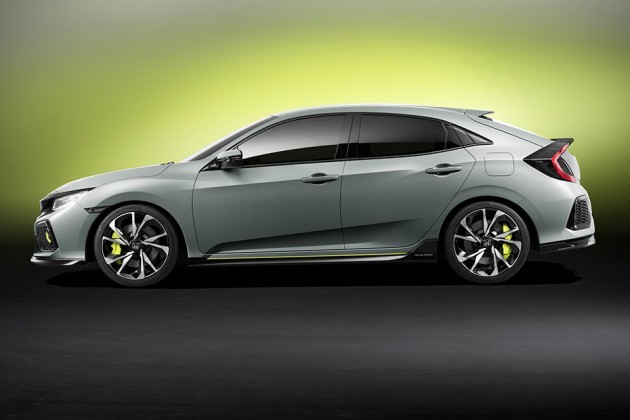 Honda also said it will be investing €270 million "in new production technologies and processes" in preparation for the new model, which will be exported around the world, including the U.S, adding that the investment "is part of a long-term vision for the EU plant in Honda's global operations." Following Geneva, Honda Civc Hatchback Prototype will be making its North America debut in New York on March 22, ahead of the 2016 New York International Auto Show.