There are motorcycles and then there's Bandit9. If you have the love for the unconventional and dig two-wheelers, then Bandit9 L.Concept and Ava could be good fit for you. Inheriting the design cues from the Bishop and EVE, the duo bears a striking retro-futuristic look that could only have come from sci-fi movies, or maybe from another dimension. As before, the cafe racer's lineage is obvious, but with futuristic touches in the mix and that's what made them stand out from the crowd of custom motorcycles we see today.
Both rides are based on Honda Supersport 125cc, with the L.Concept featuring an oblong-ish shiny high-grade steel unibody and a single-person skin leather seat providing a sleek contrast to the predominantly silver body that pretty much radiates strength and simplicity. Futuristic characteristic is exemplifies by a custom jet engine-style engine cover, along with several custom parts like the L handlebar that looks like Star Wars Speeder Bike's, custom headlight, as well as custom brake light and turn signals.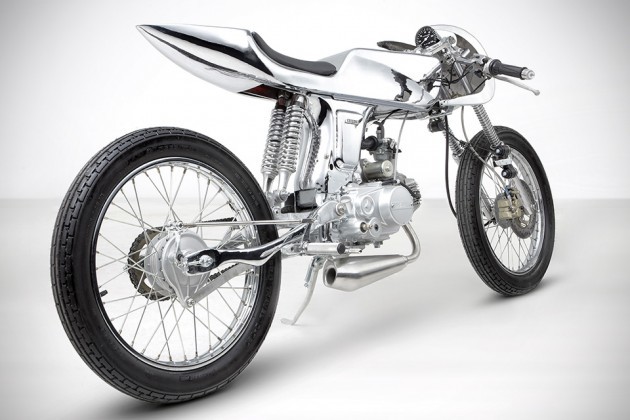 The Ava, on the other hand, is Bandit9's futuristic take of the a classic racer. The body is not as radical as the L.Concept, but it is no less head turning. Clad in a shimmering, handcrafted steel unibody and front cowl, Ava bares it all with an exposed engine. Though so, the entire setup is no less clean and minimal, without any additional frame or whatnot that would otherwise clutter the look. The Ava also boasts a slew of custom parts and components, including a sandcasted swing arm, custom naked speedometer, dualshock rear suspension, front suspensions, brake light, bar-end indicators, steel exhaust, and of course, a neat, little leather seat completes the bike.
No performance numbers were offered, but with two-wheelers looking this cool, speed and power are secondary. Only 9 units of each models are being offered for sale, each priced at $10,950 which includes free door-to-door shipping (yes, seriously). Bandit9 L.Concept and Ava are both available for pre-order via email as we speak.