Honeywell is no stranger to temperature control and automation, and it is a matter of time that the New Jersey-based firm introduces a Nest-like thermostat aimed at intelligently setting the right temperature of your home based on your lifestyle. fancy words aside, Lyric is essentially a smart thermostat that heats or cools your home based on smartphone location. on the premise of busy modern life has no fixed schedule, the Lyric will learn your habits and make the appropriate temperature adjustments. from the design perspective, Lyric looks suspiciously like the Nest, sporting a round design and it even function almost like one. though it does have some tricks up its sleeve, cos' after all, this is not a cheap piece of smart hardware costing $279 a pop.
thanks to geofencing this intelligent thermostat will automatically switch to energy saving mode when no one is at home, and when it senses you are coming home, it will heat or cool your humble abode to your desired temperature. but that's not all; it also boasts a Fine Tune feature that take into account of the indoor and outdoor temperature, humidity, and weather, so that it can provide the most comfortable temperature for you. that makes a lot sense cos' it would be pointless to be blasting the air-conditioning system at 72 degree when outside is a breezy 72 degree too. in fact, Honeywell claims that a person living in San Jose using this device could potentially save around $74 yearly.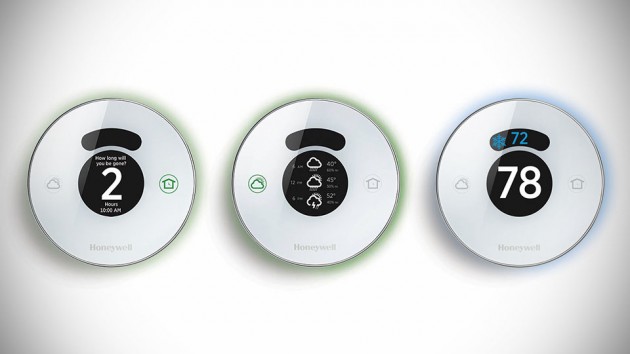 naturally, the savings one will achieve varies from location to location. still, that's not a lot of saving in year and would take you quite a while to break-even your investment. however, the benefit goes beyond monetary saving; such device also adds convenience to your busy routine such as checking and adjusting your home temperature remotely from anywhere in the world using the companion app. of course, the temperature can also be set manually using the round dial on the hardware itself. a built-in proximity sensor wakes up the display when you are within its proximity, detailing the current temperature, as well as your home's heating or cooling status.
other details include fancy mood light that will light when the device is adjusting the temperature, current and upcoming weather information at a touch of the button, filter change and furnace servicing alerts and it will even help you source for reliable service professionals, if you are all that clueless about who to go to. the Honeywell Lyric Thermostat is available now through professional heating and cooling companies, but if you are looking to buy the device and install it yourself, August is when it will be available for the said 279 bucks.