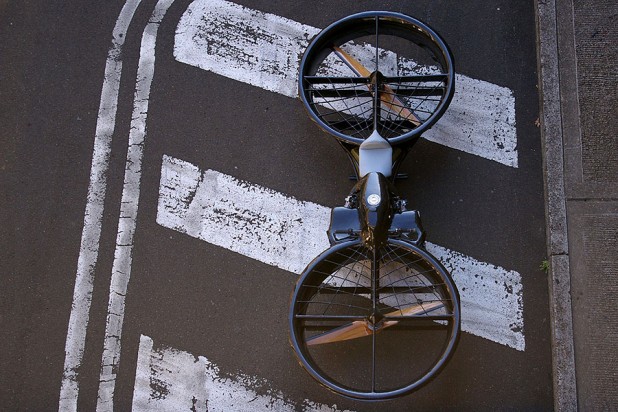 Hoverbike | US$tba | www.hover-bike.com
the name says it all: Hoverbike is a bike that hovers and in fact, it does much more than just hover. invented by one Chris Molloy from Australia, this awesome personal air transport can actually reach an airspeed of 150 knots (278 km/h) and is able to reach an altitude of more than 10,000 feet – all done while riding it like a motorcycle. while i am excited about the hoverbike but the idea of flying up to 10,000 feet riding like a motorbike does give the chill. perhaps, a parachute backpack will be a good idea here. more images of this exciting aircraft after the break.
[ad#Google Adsense-text-468×60]
constructed from Kevlar reinforced carbon fiber with foam core frame that stretches between the two huge horizontal propellers, the Hoverbike has a central main body that looks like a motorcycle. hence, the rider or should i say, the pilot basically fly this baby in a bike-riding position and controls the vehicle via the handlebars. the Hoverbike works on the principle of counter-rotating blades similar to what the Chinook helicopter uses. basing on the principle of helicopter flight, this aircraft is thus capable of moving forward and backward just by the controls at the handlebars. however, no mention of whether straddling left and right are possible.
the 80 kW (107 hp) generated from a single 1,170 cc four-stroke engine is the driving force that gives this twin propellers set up a total thrust of 295 kg. however, autorotation is still missing from this vehicle at this point but to be fair, this is still a prototype and what Malloy has achieved up to this stage is already an amazing feat. other plans are in the works to further fine tune this machine and Malloy hopes to get the Hoverbike into "limited production" within a year and possibly a full production in another two years or so. he expects to make at least 100 units a year to enable the price of the Hoverbike to be around the region of $40,000.
check out Hoverbike's official website to find out more and if you are interested in investing in Malloy's invention, you are more than welcome to contact the man via Hoverbike's official website.