HP used to be the brand name that leads the way in innovations, but somewhere along the 75 years in existence, they seem to have lost it. Now, it is set to get back on the innovation track, starting with this futuristic 3D-scanning PC with second projected screen called Sprout. Even the product name is a huge departure from the company's usual naming practices, but beyond namesake, it is essentially a Windows 8 desktop PC (Windows 8.1 64, to be precise) that boast a dual-screen creative console with a built-in projector that will cast a second screen on a mousepad-like surface, a touch-enabled display and the said 3D scanner. Sprout falls under HP's Blended Reality ecosystem with the aim to offer an advanced desktop computer with "immersive, natural user interface" that will provide users with a whole new computing experience.
Affixed to the top of the Sprout's 23-inch Full HD monitor is where you will find a thing called Sprout Illuminator that packs LED lights, a projector and two cameras. This Illuminator projects a 20-inch display with 1,024 by 768 resolution onto a multitouch touchpad (incidentally called Touch Mat) beneath the All-in-One. The camera, a 14.6MP item, on the Illuminator is the device that will be used to recognize documents and any objects placed on top of the projection. There is also an Intel Realsense 3D camera comprising of a depth sensor and infrared cameras to achieve 3D scanning. The idea behind Sprout is to merge the real world with the digital world where one can take, for example, an action figure, and import it into the digital realm and work on it and vice versa. However, we heard 3D printing is yet to be supported by the apps. Anywho, it looks like a very exciting proposition and a direction of personal computing should be headed.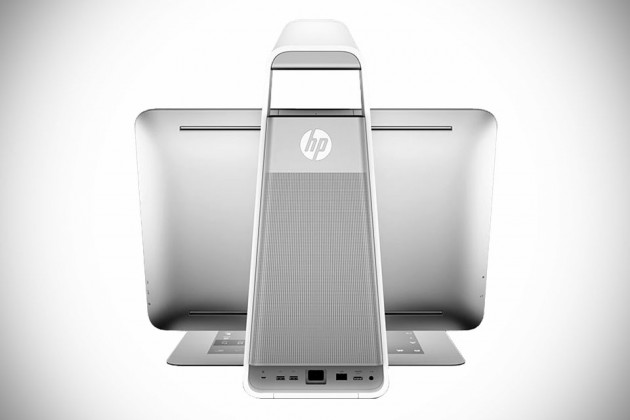 The whole system sounds more powerful than it really is, which brings us to another part of Sprout's emphasis: collaboration. It allows users in multiple locations to collaborate on and manipulate a single piece of digital content in real-time. That means, future project collaborations won't require in-person meetings, which translates to a more efficient use of time and even cost saving in long run since you will be eliminating the need to travel and such. All these will be made possible through HP own powerful software that is designed specifically to take advantage of the dual-screen experience.
As for what goes under the hood, Sprout features an Intel Core i7-4790S with Intel HD Graphics 4600 and NVIDIA GeForce GT 745A, 8GB of DDR3 RAM – upgradeable up to 16GB, 23-inch 1080p LED-backlit LCD, 1TB SSD, 3-in-1 card reader, built-in webcam, Gigabit Ethernet, 801.11a/b/g/n/ac WiFi and Bluetooth 4.0 MiniCard combo, two USB 3.0 ports and two USB 2.0 ports, one HDMI, one line out, a headphone/microphone combo audio jack, one mini PCIe expansion slot, DTS Sound+ pushed out through built-in stereo speakers, and dual digital MEMS microphones.
Already can't wait for the future of computing? Well, the good news is, the Sprout is available for pre-order and will be available for your taking in select retail locations (in Stateside, of course), starting November 9, 2014. However, it is not going to be cheap; it will run you back at $1,899.99.