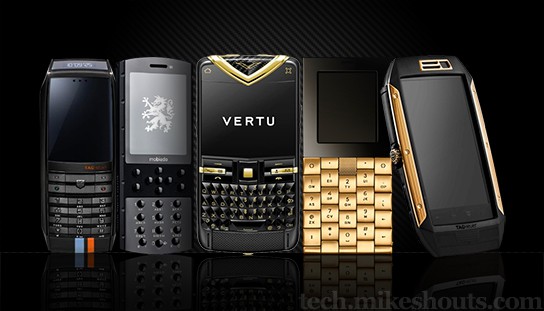 (credit: graphics by mikeshouts.com) click on above image to view larger alternate image
just like everything else in life, mobile phones have their luxurious counterpart and we have seen more of them being introduced into the market in recent years. for the uninitiated, luxury mobile phones are not just Vertu alone, although they are very much alive and kicking, and they are not just 'blinged' up item of its 'lesser' counterpart but each of them are purposely made luxury. what set these luxurious phones apart from the rest are not its user features but for its construction and aesthetic appeal. today, we shortlisted five most stunning and alluring luxury phone to grace the mobile communication world in recent time.
[ad#Google Adsense-text-468×60]
TAG Heuer Link Smartphone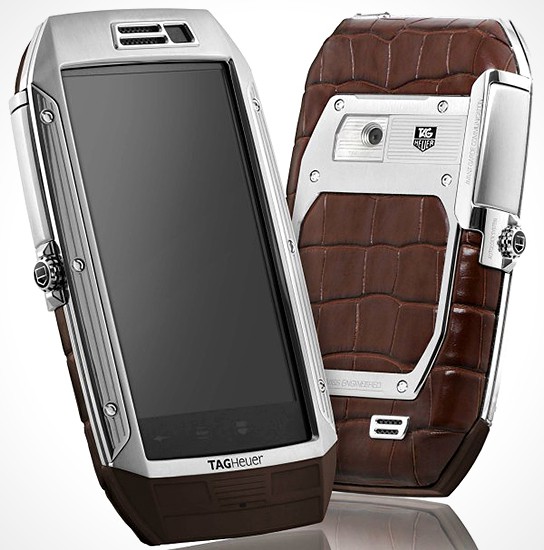 (credit: TAG Heuer) TAG Heuer Link Smartphone | €4,700.00 | www.tagheuer.com
TAG Heuer is not new to the mobile communication game, and its Link Smartphone is the latest to join the rank of luxuriously priced mobile phone market. harnessing its experience in watch making and combining with precious materials like stainless steel, titanium, gold, black PVD, diamonds, rubber, calfskin and carbon leather, what you get is a stylishly pricey Android handset that features a 3.5-inch display with 800 x 480 resolution, a 5.0-megapixels camera, Bluetooth connectivity, aGPS, WiFI and WAPI. 'nuff said. you know you want one, don't you? the TAG Heuer Link Smartphone can be yours for a cool €4,700 (about US$6,826).
Vertu Constellation Quest Carbon-Fiber Smartphone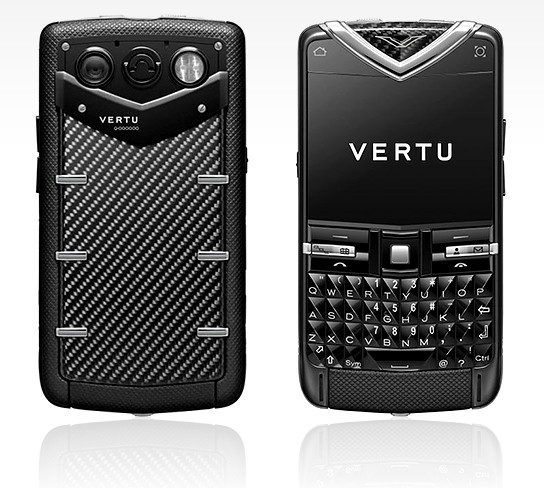 (credit: Vertu) Vertu Constellation Quest Carbon-Fiber Smartphone | from €7,700.00 | www.vertu.com
Vertu, the pioneer of luxury handset, has unveiled its latest carbon-fiber treated Constellation Quest smartphone. as you would have expected of Vertu, these phones are engineered with high performance materials combined with luxury detailing. along with the racy carbon-fiber is a matte black PVD body accented with either polished stainless steel or 18-carat gold, while the keys and display are of sapphire. beyond its alluring beauty, the phone is packed with modern essential features such as a 2.46-inch display with 640 x 480 resolution, accelerometer, QWERTY keyboard, 8-GB internal storage, micro SD card slot, Bluetooth connectivity, WiFi, 5.0-megapixels autofocus camera with dual LED flash, and among the many others. the price for such luxury starts from €7,700 (about US$11,180) for the stainless steel model, and a whopping €12,000 (about US$17,430) for the 18-carat gold model. check out GSM Arena for more detail specs.
Mobiado 712 Stealth Limited Edition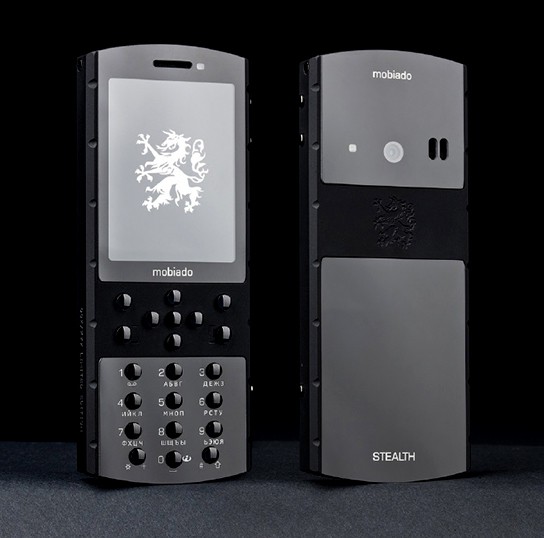 (credit: Mobiado) Mobiado 712 Stealth Limited Edition | US$tba | www.mobiado.com
announced in May 26 this year, the Mobiado 712 Stealth Limited Edition has only a limited run of just 777 units. inspired by Stealth aircraft, this ultimate in luxury mobile communication is clad in anodized aircraft aluminum frame finished in stealthy black, along with 179-carat sapphire crystal plates. not a single detail has been left untouched, including the notch on the sides that enables a secure holding of this exquisite phone when wearing gloves. other details include hand painted buttons, gunmetal black stainless steel screws and CNC engraved branding. Mobiado even went the extra mile to blast the aluminum to achieve the evenly matte texture surface. the 712 Stealth LE is quad-band GSM, but also covers WCDMA, and comes equipped with a large 2.2-inch QVGA display, a 5.0-megapixels autofocus camera with LED flash, integrated GPS, web browser, email support, Bluetooth connectivity and a music player that supports a variety of music formats. it even has two microphones for uplink noise cancellation.
TAG Heuer Meridiist Gulf Limited Edition

(credit: TAG Heuer) TAG Heuer Meridiist Gulf Limited Edition | €5,800.00 | meridiist.tagheuer.com
another TAG but this time, its the Meridiist with its new kid on the block – the Gulf Limited Edition – inspired by none other than the coolest man to ever grace the silver screen – Steve McQueen. the familiar Gulf Oil's light blue and orange racing stripes that adorned the phone, together with the stainless steel in black PVD finish, gives this phone an unmistakable race car look. based on the Meridiist GMT, the Gulf features luxury touch like the backlit mechanical stainless steel keypad, multi-function TAG Heuer switch and 60.5-carats of sapphire crystal glass. it is also equipped with a 1.5-inch TFT LCD main display, a secondary OLED display, a 2.0-megapixels CMOS low noise sensor camera, built-in memory of 2-GB, Bluetooth connectivity and the 950 mAh Lithium-ion battery is good for 28 days of standby and 7-hours of talk time. the TAG Heuer Meridiist Gulf Limited Edition has a limited production run of just 400 units and carries a price tag of €5,800 (about US$8,200). the Gulf is now open for pre-order, along with other limited edition models and standard models, via TAG Heuer Meridiist website.
Aesir +YvesBehar Phone

(image credit: Aesir) Aesir +YvesBehar Phone | from €7,250.00 | aesir-copenhagen.com
Aesir +YvesBehar Phone is no stranger in this blog as we have featured it when it first surfaced in March. exist in either the 18K solid gold or the 316L stainless steel version, and available in limited quantities – to which no mention on how limited will be the "limited quantities" be. like the Gulf and the 712 Stealth, the +YvesBehar Phone is minimalist in design and constructed from precious materials such as 18K solid gold, 316L stainless steel, ceramic with highest grade ultra-glossy finish and sapphire crystal with ARdur coating. highlights of this exquisite phone include precise engineering to achieve edge-to-edge key design, wraparound ceramic upper, and bespoke icons and typeface as designed by acclaimed Tom Hingston Studio. other bear minimal specifications of this back-to-basic luxury phone include a 2-inch TFT display, quad-band GSM network and multi language support. its supplied Sony battery cell is good for 5.2-hours of talk time, and up to 220-hours of standby time. the Aesir +YvesBehar Phone is perhaps the priciest of the five phones feature here with a price tag starting from €7,250 (about US$10,240) and runs up to a mind-boggling €42,000 (about US$59,400).
there you have it – the five luxury mobile phones of recent time. though the roundup isn't exhaustive but it does represent the more recent launches in the luxury mobile phone market. if you have the kind of dough to splurge on one of these, which one would it be? for me, i will put my money on the TAG Heuer Meridiist Gulf Limited Edition anytime – if i have that kind of money. when a race car heritage and luxury watch making mashes with a phone, what's not to love? really.