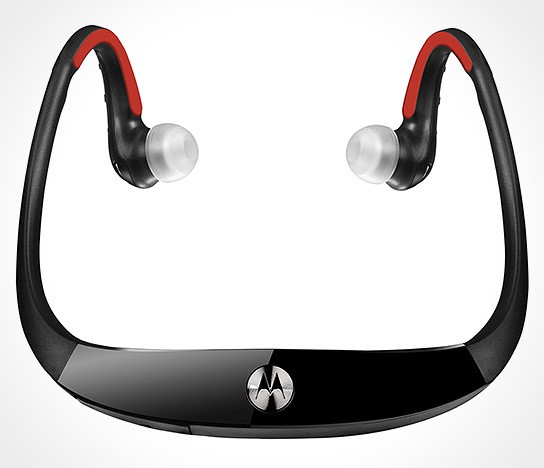 (credit: Motorola Mobility Japan) Motorola S10-HD Bluetooth Headphones | ¥12,800.00 | www.motorola.com
hot on the heels of the recently announced HK210 Bluetooth Wireless Headset, Motorola Mobility Japan announced yet another Bluetooth connectivity product – the S10-HD Bluetooth Headphones, successor to the award-winning S9-HD headphones. designed with sporting users in mind, or those in extreme hot countries where sweat is as common as the dust in the air, this pair of buds is totally sweat proof and water resistant.
[ad#Google Adsense-text-468×60]
the new S10-HD uses advanced materials and carefully thought out design to ensure the electronics within stay dry. though, no specifics were given for the material used. the balance between audio quality and sweat proofing is achieved with recessed drivers, fronted by the newly developed ear cushions, and along with the hydrophobic acoustic meshes, while silicone seals, co-molded buttons and molded micro-USB charging cover further protects the S10-HD against moisture. check out a couple of more look and the official press release after the break.
weighing in at just 43-grams (1.52-ounces), this pair of sweat-proof buds features a built-in battery that's good for 240-hours of standby time, 8-hours of music playback time and a talk time of up to 9-hours. the Motorola S10-HD Bluetooth Headphones is set to go on sale in Japan from tomorrow, July 15 with a MRSP of ¥12,800 (about US$162).
[toggle title_open="Hide Press Release" title_closed="Show Press Release" hide="yes" border="yes" style="white"]
Motorola Mobility S10-HD Bluetooth® Headphones Will Keep Your Music Moving
July 11, 2011
Tokyo - July 11, 2011 – Make talking on your mobile phone more comfortable and flexible than ever with the new S10-HD Bluetooth®1 headset, from Motorola Mobility Japan, Inc. The S10-HD is the only Bluetooth® stereo headphone designed to keep your music moving with you. S10-HD provides rich, high-definition sound quality in a comfortable, sweat proof design. The S10-HD will be available in Japan starting July 15th with a suggested retail price of 12,800 yen (Tax included) 2.
Don't Sweat It!
Put the S10-HD to the test! The lightweight, sweat proof and water resistant design can keep up with you, whether you're going for a rigorous workout or simply running errands. The S10-HD uses advanced materials and a thoughtful design to ensure the electronics stay dry. The S10-HD's speakers are recessed in their housing with a new ear cushion interface and hydrophobic acoustic mesh to ensure the headset is sweat proof, while preserving audio quality. To reduce exposure to moisture, silicone seals protect electrical components, all buttons are co-molded and the micro-USB charging cover is molded to the headphones housing with a water-proof plug.
Music to Your Ears
Listen to your favorite tunes in a whole new way with S10-HD high definition audio. The advanced acoustic design along with digital tuning and enhanced bass provide amazingly rich audio. It even takes your phone calls by automatically pausing the music and resuming it when you hang up.
Building on Perfection
The S10-HD is an update to the S9-HD, the award-winning Bluetooth stereo headphones that redefined wireless music. The back housing is redesigned to optimize antenna performance outdoors and improved buttons help make controlling music and calls a breeze.
Availability
S10-HD Bluetooth Headset will be available in Japan beginning July 15 at selected retail chains and on Amazon.
Find out more at
http://www.motorola.com/Consumers/JP-JA/Consumer-Products-and-Services/Mobile+Phone+Accessories/Headsets/Bluetooth-Headsets/Motorola-S10-HD-JP-JA
Motorola S10-HD Key Features:
Standby time: Up to 240 hours
Music playback time: Up to 8 hours
Talk time: Up to 9 hours
Dimensions: 140x127x51mm
Weight: Approximately 43g
Bluetooth®4 Version: Compliant to Bluetooth® specification v2.1+EDR
About Motorola Mobility
Motorola Mobility, Inc. (NYSE:MMI) fuses innovative technology with human insights to create experiences that simplify, connect and enrich people's lives. Our portfolio includes converged mobile devices such as smart phones and tablets; wireless accessories; end-to-end video and data delivery; and management solutions, including set-tops and data-access devices. For more information, visit motorola.com/mobility. Motorola Mobility Japan Inc. is a subsidiary of Motorola Mobility, Inc.[/toggle]