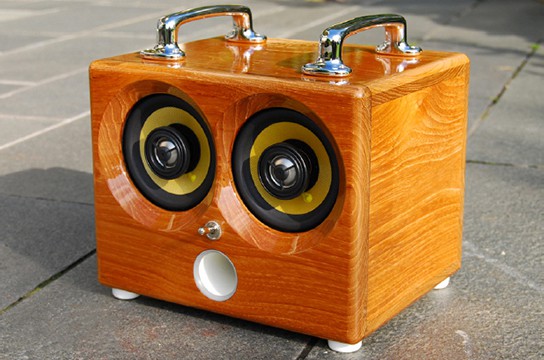 (image credit: Thodio) Thodio iBox Sound Dock | from €359.00 | www.thodio.nl
sound docks for iPhone/iPod are a dime of dozen and it comes to point that most sound dock just look bland but not in the case of this handcrafted Thodio iBox which is destined to stand out among its competition with its beautiful natural wood enclosure. the combination of chrome handles for portability and the built-in rechargeable battery means you are all set to blast out the tunes from your iPhone/iPod anytime, anywhere. its 15-hours battery life makes sure your iPhone runs out of juice before it does.
iBox isn't your run-of-mill sound dock. in fact, you have a wide range of material choice for its enclosure: MDF, oak, teak, mahogany, zebrawood or purpleheart. or you can put in your request to Thodio and they can create a custom set for you. want one handle instead of two? no problem. whatever materials you chose, they will be a good 15 mm thick and all wooden material comes treated with linseed oil which you can opt out.
if outdoor use favors you, Thodio has option for additional coating of seven layers of clear UV and scratch-proof yacht coating to protect your price possession from the harsh element of the sun. however, that's only applicable to natural wood. for MDF, there's an option of five layers of high gloss pain in any color of your choice.
standard output is 2 x 24 watts rms in stereo but there's an option to upgrade the sound department to a 2 x 60 watts rms or 2 x 70 watts rms system. connectivity are one 3.5 mm audio in and one aux-in/out. the sound dock comes packaged with one battery charger, one 3.5 mm jack plug auxiliary cable and one year warranty. prices of the Thodio iBox starts from €359 (about US$496).