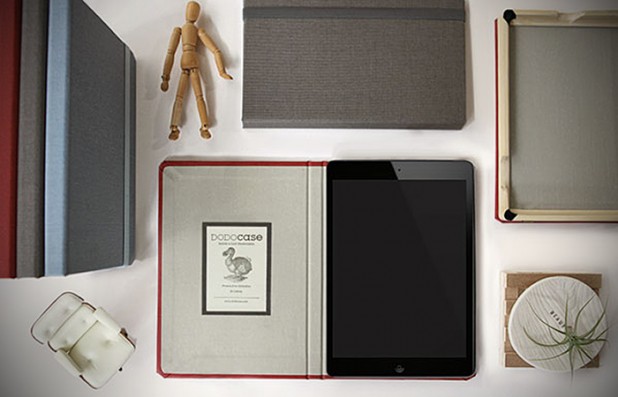 Accessories for Apple iPad mini by DODOcase | from US$19.95 | www.dodocase.com
while tablet makers are in the race take the biggest piece of the tablet cake, accessories makers are doing the exact same thing: vying for your hard earned cash for the newly announced gadgets and in this case, we are talking about the new iPad mini. DODOcase, one of the pioneer in hand bound iPad cases, has announced three new iPad mini accessories: the DODOcase, HARDcover, as well as BOOKback for iPad mini. in fact, these accessories need little introduction as they are pretty much the same as the iPad's items but scaled down to fit your would be iPad mini. or perhaps, a little refresher would help in their case-decision making process. the DODOcase for the iPad mini (from $59.95) is available in Classic and Solid model, featuring a lightweight, impact-resistant, eco-friendly bamboo tray and a sturdy exterior cover, wrapped in DODOcase's signature Moroccan cloth in black with a choice of interior color of red, sky blue, or charcoal.
the HARDcover for iPad mini (from $34.95), on the other hand, is a slimmer case that uses super strong adhesive to attach your iPad mini to the inside of a hardcover case. like the DODOcase for the iPad mini, it features the trademark Moroccan cloth exterior in black and a choice of colors for the interior. available in Classic, as well as Solid model. for both cases, camera hole comes as an option, as with the monogramming service. last but not least, for the minimalist and what we would call, the daring ones, there's the BOOKback for iPad mini ($19.95). as the name implies, it is basically a piece of leather grain that adheres to the back of your iPad mini, giving it a luxurious look and feel and at the same time, offers a form of back protection for your mini, well, albeit being quite minimal. oh, and it does work with Apple's Smart Cover for mini too. check it out.