the original comic version of the Iron Man is, well, classic at this point. the silverscreen iteration of this exoskeleton suit is a representation of style. the man behind the suit, Tony Stark is the lifestyle with his stunning Malibu mansion, flashy cars and flamboyant character. this lifestyle transcends to his collection of Iron Man suits which we have witnessed, albeit briefly, in the third installment of Iron Man. each of the superhero suit has its own purpose, but regardless of the application, it is no doubt that each and everyone looks fantastic, including the Skeleton Suit Mark XLI. so name for for its unique thin black and gold-colored armor plating with the internal 'exposed', giving it the skeletal look (hence the namesake). now you can get a piece of this beauty without being a billionaire with this incredible detailed Iron Man 3 Mark XLI Bones 1/6th Scale Collectible Figure by Hot Toys.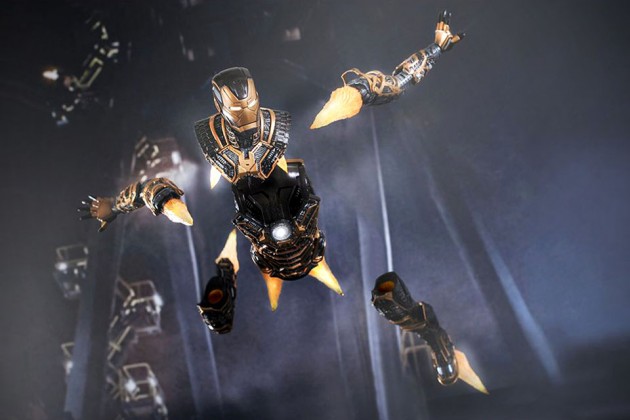 it stands a 12 inches (30 cm) and boasts exacting details, black and gold-colored armor, LED light-up functions and magnetically detachable limbs, complete with trailing flame, for you to recreate the scene from the movie Iron Man 3. other details include over 36 points of articulations, interchangeable palms, articulations on waist armor for added flexibility in movement, and a circular figure stage with flexible pillar and armor parts stands to show off this super cool 1/6th superhero exoskeleton suit. the Iron Man 3 Mark XLI Bones 1/6th Scale Collectible Figure by Hot Toys is expected to hit the shelves in June 2015, but the book is opened for pre-order at Sideshow Collectible for $294.99.
p.s. if you need a little refresher, there is a clip down below for you to do so. pay special attention to the mark starting at 0.48.