(image credit: Onkyo Japan) Onkyo Snoopy-themed Tablet | ¥79,800 | www.jp.onkyo.com
Onkyo seeks to give its Onkyo tablet a boost with the Japan-only Snoopy-themed tablet. Snoopy or Peanuts fan can expect a Snoopy drawing (with his best friend, Woodstock) on the back of the tablet, a Snoopy stylus and a special "Peanuts" (the comic, not the nut…) case. also included with tablet are special screensavers, icons, wallpapers and a Snoopy calendar.
spotting a 10.1 inch LCD with 1024 x 600px resolution and running on Atom N450 1.66GHz processor, the tablet will have 1GB of DDR2 RAM, a 160GB hard drive, two USB ports, SD/SDHC/MMC card reader and a built-in webcam. connectivity includes wireless 802.11b/g/n and bluetooth 2.1+EDR.
on the software front, it will be powered by Windows 7 Home Premium 32-bit. the Snoopy Onkyo Windows Tablet is open for pre-order now with an expected shipment in March 2011. do note that this is a limited edition Japan-only tablet, so Snoopy fans outside of Japan has to seek other means of acquiring it.
then again, being a Japan-only product, the language used will be in Japanese. that includes the documentations and the Operating System. unless you are able to read Japanese language, you can probably give it a pass.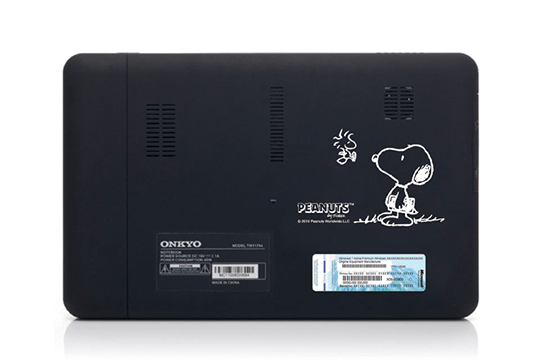 (image credit: Onkyo Japan)
via CrunchGear