before you tree-loving, environmentalists start protesting, the Kahiko (Ancient One) Table by Ancientwood is made from the world's oldest workable wood. meaning the wood used was not logged. instead, only fallen Ancient Kauri trees, which the wood of this table hails, are removed from prehistoric bogs and used by Ancientwood to create its one-of-a-kind pieces. so quell your anger, folks. no live trees were harmed in the process, though we can't say the same for the ground the workers trample on. the table measures 42 inches by 94 inches is the most unique and expensive tables ever created by Wisconsin-based studio. so what makes this table made from the conifer endemic to the North Island of New Zealand so special?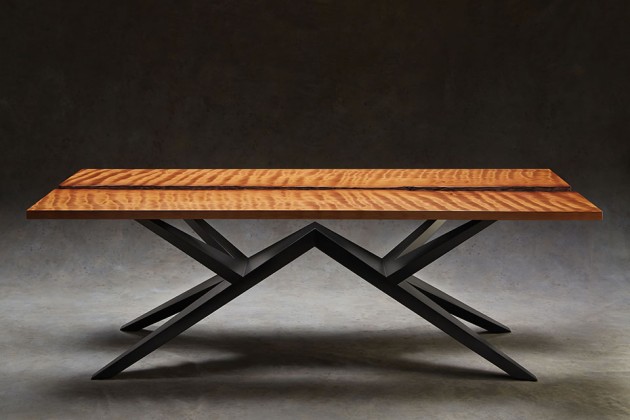 well, it is an absolute beauty, thanks to the unique grain this 50,000-year old wood has. this grain creates 'waves' that lends the flat surface of the table a three-dimensional effect and is an exceptionally rare phenomenon in Ancient Kauri not to be found in other species of wood. the rarity and beauty of the table is match to an equally brilliant design too; the surface itself is split into two pieces, left and right, and while the external edges are smooth and straight, norm for most tables, the inner edges are left in its natural state, further exemplifying the nature theme. the two pieces are held as one by a sculpted base made of wood and carbon fiber composite, adding a tint of contemporary feel to an otherwise nature-heavy furniture.
we are not sure if the Kahiko (Ancient One) Table still available, cos' it looks like there is only one available, but if it is still available and you wanted one, then be prepared to shell out a good $100,000 for it. in any case, you can touch base with Ancientwood for more details.