Ok, kids. Time travelling is not real, or least that's what we were told, but that doesn't stop a young Swiss company Klokers from creating a time travelling watch. Well, actually, the watch in question called KLOK-02, won't shuttle you back and forth through time, but it is one fashion watch that makes telling time easier when travelling between time zones and let you do in the coolest way possible: with a push of button. While many timepieces share an almost similar design consisting of a dial face with hands, KLOK-02 and its sibling KLOK-01, took on an animated approach that you will normally only find in ridiculously priced wrist watches.
It throws out the notion of conventional dial face with hands and employs multi-level retrograde seconds and minutes, and a push button-activated 24 time zones with both date and hour, along with the Time Zone, viewable on two separate windows on the lower half of the watch face. A long press of the pusher at 4 o'clock will call up the date for that particular time zone, while a short push, gets you the time. This unique complication is complemented by a unique case design that recalls the look of a pocket watch. Speaking of pocket watch, the KLOK-02 and its lovely counterpart, KLOK-01, can be a pocket watch too, if you so desire – thanks to a special docking Klokers key that enable the band to be released from the watch in one swift action.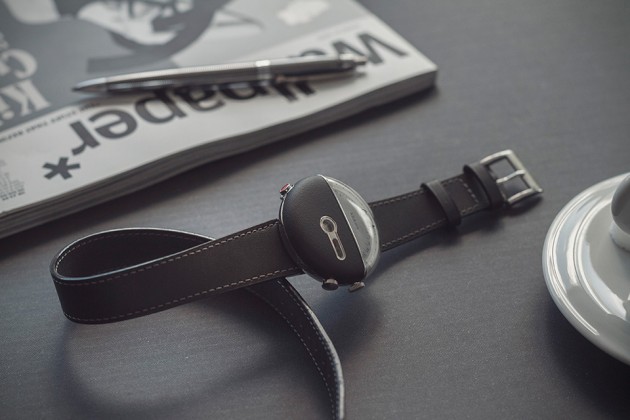 Other worthy mentions include a generously sized of 43.2 x 13.2mm, a stainless steel, technical polymer and faux leather construction, water resistant to 5m (16 feet), genuine leather watch band, and Swiss-made SOPROD SOP 813 micro-motors movement. Limited quantities of the KLOK-02 are available for pre-order over at Kickstarter, priced at €499 (about US$567) a pop and as for "non-time travelling," slide rule-inspired KLOK-01, it goes for €299 and up (US$340 and up).