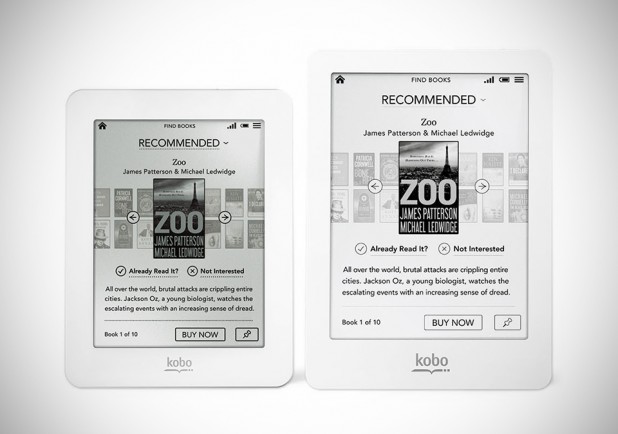 Kobo Glo and Kobo Mini e-Readers | US$79.99 | www.kobo.com
not impressed with the new Kindle Paperwhite? or you simply want more options for your next e-Reader purchase? well, then you are in luck. Kobo is building up its e-Reader portfolio with two new e-ink based e-Readers, the Kobo Glo and the Kobo Mini. kicking off the new e-Reader line is the Kobo Glo, a 6″ e-Reader destined to go head-to-head with Amazon's Kindle Paperwhite with features such as customizable fonts, built-in WiFi, a no-glare XGA high-resolution (1,024 x 768 pixels) touchscreen display for print-on-paper like reading, and ComfortLight technology illuminating the screen with a soft, adjustable glow for reading in any lighting condition. other features include 1GHz processor, 2GB of storage (expandable via micro SD card up to 32GB), micro USB port, soft back design with Kobo's signature quilt pattern, and a battery pack that's good for more than a month with WiFi and light turned off or up to 55 hours of continuous usage with light turned on.
the Kobo Mini, on the other hand, is touted as the "world's smallest and lightest full-featured E-ink e-Reader available today." and features a 5″ non-illuminated, fingerprint-resistant E-ink touchscreen with 16-level grey scale, a 800 MHz processor, built-in WiFi, micro USB port, non-expandable 2GB onboard storage, 7 font styles with 24 font sizes, plus exclusive weight and sharpness settings, an interchangeable back cover and a battery pack for over two weeks of usage – with the WiFi turned off, of course. both Kobo e-Readers' battery life may not be as impressive as Amazon's latest E-ink e-Readers but both managed to make it up with lighter weight and for the case of the Mini, being highly pocketable. the Kobo Glo and Kobo Mini will be available from October 1, 2012 with a price tag of $79.99 and $129.99, respectively. scroll down for a video and some closer look of the new Kobo e-Readers.