Behold, the first LEGO roller coaster set for adult fans of LEGO (AFOLs), the LEGO Icons Loop Coaster Set (10303). No, the last set we saw in 2018, the 10261, is targeted at children 16 and up.
You can argue that the LEGO Creator Roller Coaster (10261) is an AFOL set but we are going to be strict here: it is not.
As far as roller coaster design goes, the LEGO Icons Loop Coaster Set (10303) is an original design that is rather usual.
It has an elevator to lift the train of cars to the top and send the cars whizzing through the roller coaster's loops and turns by the power of gravity. And yes, it has loops. Plural because it has two of them, and also yes, that is another first: the first LEGO roller coaster set to feature loop(s).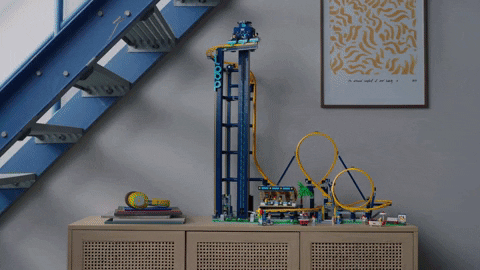 The operation of the elevator is manual but you can upgrade it with LEGO Powered UP available separately to motorize it.
The set comes with a train with 3 cars, a boarding station with opening barriers, a control panel, and a bunch of accessories, including a park bench with a map, balloon cart, pretzel cart, hot dog stand, and roller coaster mandatory height marker.
The set has 3,756 pieces, which include 11 minifigures. That is a lot of minifigures but only 5 are designated riders which is not nearly enough to get the ticket sale required to justify the set's asking price of US$399.99.
A lot of money is not the only thing this set demands; it demands quite some shelf real estate with its 33.5" by 13.5" (92 x 85 cm) footprint. And oh, shelf height too. It is freakishly tall at 36 inches or 92 cm. It is not clear when the set will be officially available to the public but we do know that VIP Early Access for this set starts on July 01, 2022.
All images courtesy of LEGO Group.