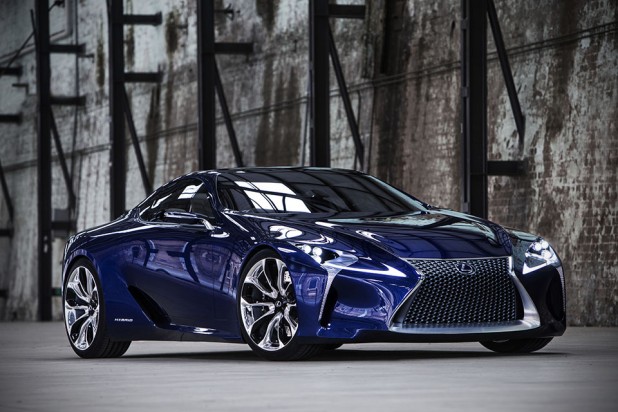 Lexus LF-LC Blue Concept | US$tba | www.lexus.com
ask yourself this: would you put your journey in the hands of a completely electric vehicle? we suspect the majority of the answer would be 'no' and hence, going partway green in the form a hybrid would be the safest bet before electric proves itself to have a sustainable distant and offers a reasonable quick charge in the event of a flat batt. in the case of a hybrid, concept such as the Lexus LF-LC Blue Concept sounds like an attractive practical proposition and like the first LF-LC showcased at the Detroit Auto Show earlier this year, the body is composed of lightweight carbon fiber and aluminum alloy materials that formed its sharp futuristic aesthetic, characterized by its bold front end with striking "L" shaped daytime running lights and deeply sculpted air intakes behind the doors. unlike the previous version, not only this follow up has an new Opal Blue paint job, we now have a wee more information.
under the hood, is what Lexus dubbed as the Advanced Lexus Hybrid Drive that combines an efficient Atkinson cycle internal combustion engine coupled to an advanced high-energy battery pack, delivering 500 horsepower (373 kW) in total. other features include a glass wrap-around roof, quad exhaust, and a driver-focused cockpit finished in a combination of smooth leather, suede, brushed metal trim and wood accents. on the inside a twin 12.3-inch touchscreen LCD display offers integral information and navigation display, as well as controls for the audio system, climate controls, and of course, navigation. as usual, if you find a vehicle looking this sharp, don't quite expect it make it to the showroom anytime soon but it will however, give enthusiasts a hint of what to expect from Lexus. nevertheless, we sure hope it become a reality as-is or may be, a little less angular in the profile. well, that's just us. scroll down for a short trailer of the Blue Concept.