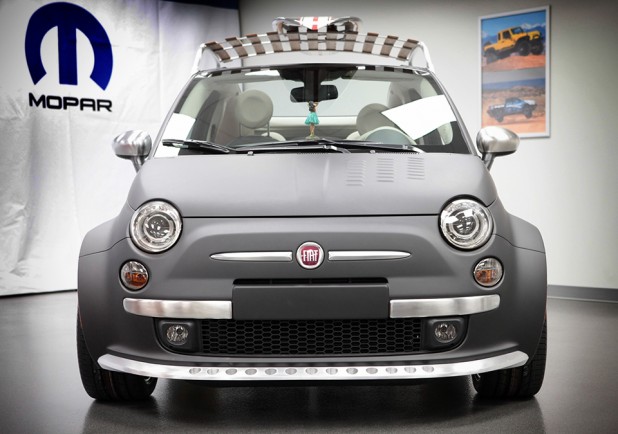 Fiat 500 Beach Cruiser | US$tba | www.fiat.com
since the 'revival' of the Fiat 500, there have been countless fan- and shop tuned examples but the Fiat 500 Beach Cruiser is unlike what we have seen so far and honestly, we l like it a lot. exist as part of the Chrysler Group's 24 Mopar-modified vehicles that will be gracing the upcoming 2012 Specialty Equipment Market Association (SEMA) Show, happening in Las Vegas from Oct 30 to Nov 2, 2012. described as "a playful take on the West Coast car culture", this Fiat 500 Cabrio is clad in a unique charcoal, matte-finish grey and features a wide body kit with old school fashion fender flares, complemented by aluminum Mopar prototype wheels in red and brushed center caps. other exterior visual enhancements include satin brushed finish on the door handles, mirrors and Mopar fascia accents, such as the front spoiler, and the Mopar roof rack surfboard carrier with teak woodwork on the slats, tinted headlamps, prototype Mopar hood, and a functional Mopar rear deck lid. moving on to the interior, trim bezels sport the satin brushed finish,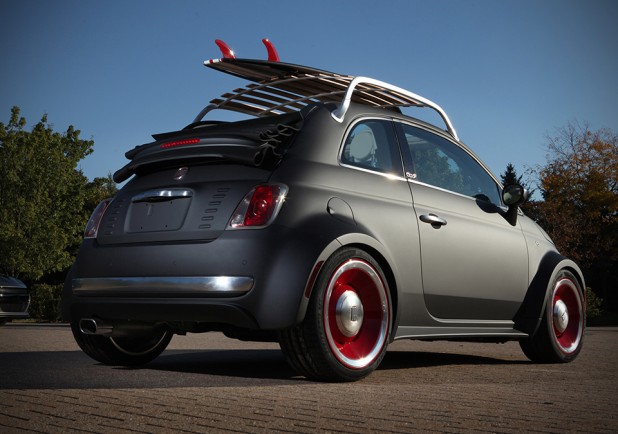 along with dark grey naugahyde high-gloss vinyl seats with red-and-white "beach towel" seat inserts, floor slats finished with teak woodwork, while an extended shifter topped off with a white ball. however, Mopar didn't stop at visuals, this 500 is given a boost in the performance and handling department with Mopar exhaust, Mopar cold-air intake, as well as Mopar strut tower brace. no indication as to whether the showcased parts and accessories will be made available to Fiat owners at this point.