Ever wish your smartphone can have the ergonomic of a regular digital camera? Like, you know, complete with an ergonomic grip, shutter button, zoom buttons and the works? Well, its not like the industry hasn't try it before – just ask Samsung and they will tell you it didn't quite work out. However, LG seems to have found an in-between solution and has implemented it on its latest flagship handset, the LG G5. Unveiled at the Mobile World Congress at Barcelona, G5 is perhaps the boldest phone from the South Korean handset maker to date.
The device features a removable lower section that lets users remove the stock part and replaced with dedicate module – all while retaining its traditional removable battery, housed in a full metal unibody design. It's the first for LG and the company is calling it a Modular Type design. At the time of the announcement, LG show off two modules: LG Cam Plus that turns the G5 into a "DSLR-like" camera and LG HiFi Plus with B&O PLAY, a portable HiFi DAC audio player that promised to deliver top-notch audio.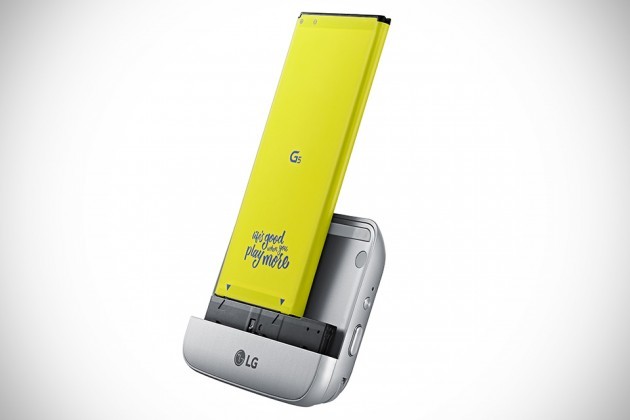 First, the LG Cam Plus. The Cam Plus adds physical buttons for power, shutter, record, zoom, along with LED indicator and a grip to the G5. It boasts intuitive autofocus and exposure lock typically found only on dedicated digital cameras, plus it comes with an additional battery rated at 1,200 mAh, so you can shoot more.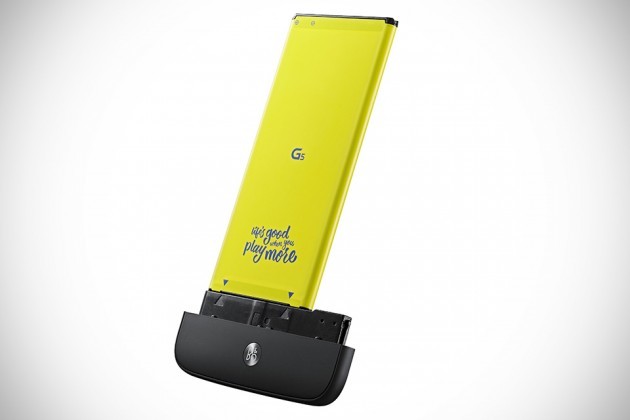 LG HiFi Plus with B&O PLAY, on the other hand, is for music enthusiasts. It sports B&O's trademark Scandinavian design and packs a 32-bit 384KHz high-definition audio playback capability so you can get the most out of your favorite tunes. As a boon, LG HiFi Plus with B&O PLAY can also be used as a separate HIFI DAC with any smartphone or PC. Finally, the slide-out battery enables you to easily swap out a depleted battery for a full charged pack in a matter of seconds.
While LG's modularity is not what we have imagined, it is modular, nonetheless. Modular design aside, LG G5 also touts an innovative display. Its 5.3-inch Quad HD IPS Quantum display has an always-on feature. Unlike the LG V10 that has the always-on display as a second screen, G5's always-on display is a small section within the main display itself. The display is used to show the time and date even when the device is in sleep mode. Here's how it works in LG's words:
"To minimize power consumption, LG redesigned the display driver IC memory and power management function so that the display's backlight only illuminates one small part of the overall display. Thanks to this technology, the Always-on Display requires only 0.8 percent of the battery's full capacity per hour to operate. With consumers turning on their smartphones up to 150 times a day mostly to just check the time, the G5's Always-on Display will make a notable difference in the life of the battery over the course of the day."
The display also feature Daylight Mode that detects surrounding light conditions to increases or reduces the display's brightness up to 850 nits. LG said Daylight Mode will provide "exceptional outdoor visibility beyond that of current auto brightness technology."
A couple of notables you can expect include a dual camera setup at the back featuring one 78-degree lens and a 135-degree wide angle lens – the widest available in any smartphone up to this point, and a slew of photo and film effects that lets you explore your creativity. Head to the end of the post for a run down of the LG G5 specifications.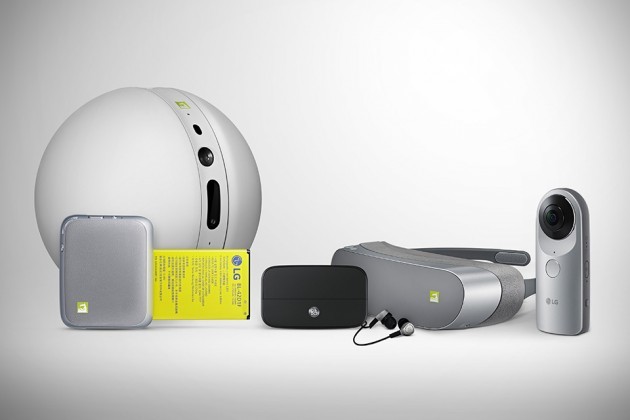 During the unveiling, LG also introduces a collection of companion devices that will work in sync with the G5 to create a "paradigm-shifting" smartphone ecosystem, dubbed LG Playground. The companion devices are collectively called LG Friends and include a 118g VR google (LG 360 VR), a 360-degree camera with 2x13MP 200-degree wide-angle cameras (LG 360 Cam), a ball-like monitoring system that aims to keep your home safe and entertain your pet (LG Rolling Bot), a Balanced Armature Bluetooth headset equipped aptX HDcodec (LG Tone Platinum), a designed-for-audiophile high-end earphones by B&O PLAY, a smart controller that could be used to control unmanned aircraft (LG Smart Controller), and finally, a hub application that lets you manage LG Friends with ease. Basically, it pairs automatically to any nearby LG Friends in just three steps.
Keep going for LG G5 specs rundown, as well as a couple of videos introducing to LG G5 and LG Friends.
LG G5 Key Specifications
Chipset
Qualcomm® Snapdragon™ 820 Processor
Display
5.3-inch Quad HD IPS Quantum Display (2560 x 1440 / 554ppi)
Memory
4GB LPDDR4 RAM / 32GB UFS ROM / microSD (up to 2TB)
Camera
Rear Standard 16MP, Wide 8MP / Front 8MP
Battery
2,800mAh (removable)
OS
Android 6.0 Marshmallow
Size
149.4 x 73.9 x 7.7mm
Weight
159g
Network
LTE / 3G / 2G
Connectivity
Wi-Fi 802.11 a, b, g, n, ac / USB Type-C / NFC / Bluetooth 4.2
Colors
Silver / Titan / Gold / Pink