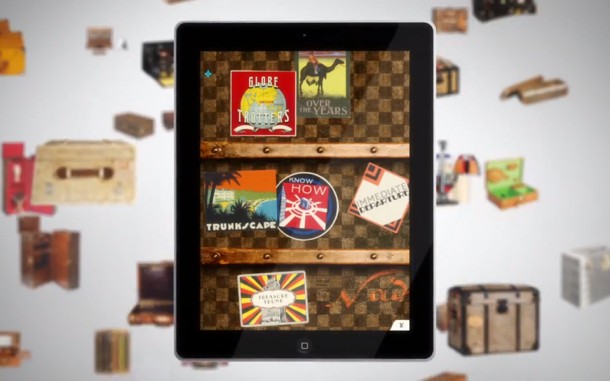 Louis Vuitton 100 Legendary Trunks App | US$18.99 | www.louisvuitton.com
love everything about Louis Vuitton? then you probably would be familiar with its signature travel suitcases (aka trunks) which essentially is the icon of the Parisan fashion giant. making yourself acquainted with LV's signature product line isn't an overnight thing, after all, its trunks have a history dating as far back as mid-19th century. which is a whole lot to digest, if you ask me. with the interactive Louis Vuitton 100 Legendary Trunks iPad App ($18.99, AppStore), your journey in acquainting with the iconic trunks would be made easier and more fun too. adapted from the book of the same name, this iPad app features 100 of the finest trunks the Louis Vuitton company has produced, including custom pieces made for celebrities such as Sharon Stone, Ernest Hemingway, Jeanne Lanvin, Karl Lagerfeld, just to name a few.
fans can take advantage of the 21st century technology of an iPad app and dive deep into the world of Louis Vuitton trunks complete with videos, sound clips, illustrations, along with unpublished texts and documents. other highlights include individual showcase of 100 emblematic trunks, 360-degree views of 10 very special trunks, social sharing via email, Twitter or Facebook, and a variety of ways to browse the collection including chronological order, random journey of the trunks, famous travelers with LV trunks et cetera. sure, you can always grab yourself the 400+ pages book with the exact same topic but for the true LV geeks, this is the only way to go. if not, how else would you be called an Louis Vuitton geeks? check out an app intro video after the break.