When Apple designed a mask for its employees, it turns out to be as minimal and stylish as its products. That prompted us to think: what if a tech-focus automaker like Tesla Motors also engineered a mask? Would it be as high-tech as its electric vehicles?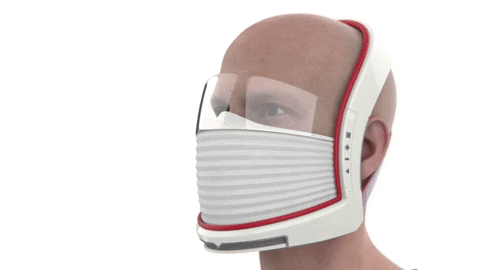 Knowing that Tesla's head honcho is not fan of face mask, we may never have an answer. However, someone has taken the liberty to answer this curious question and that someone is car comparison site, Lease Fetcher.
The concept mask, aptly dubbed Elon Mask (not a typo!) is a personal BioDefense protection mask that is designed to match your Tesla EV and it is loaded with tech.
It boasts a range of innovations, including real-time audio enhancement, phone sync, and safe distancing alerts if someone breaks the 6 feet social distancing rule. Those are not it.
It is outfitted with HEPA filter that could remove 99.97 percent of particles as tiny as 0.3 micrometer. The mask is adjustable electronically for different levels of protection, including no protection, air filter-only, air filter + visor.
Lease Fetcher imagines the visor to be made from transparent metal aluminum oxynitride that offers a clear view of the world outside while preventing droplets from making to your eyes and protecting you from 9mm rounds or weighted metal balls.
OK. The bulletproof bit is a joke because, Lease Fetcher also added a fine print that says "will definitely be bulletproof at launch" which is play at the botched window demo during the Cybertruck unveiling. LoL! Good one, Lease Fetcher. Good one!
Anyhoo…. With the high-tech Elon Mask, you can sync with your smartphone to listen to music, take calls with built-in mic and bone conduction headphones. Meanwhile, a real-time audio enhancer enables you to hear a mask-wearing person talking in front of you with clarity.
It is concept and personally, I will not hold my breath for it. But there's no harm holla out to Elon Musk and let him know about it.
All images courtesy of Lease Fetcher.