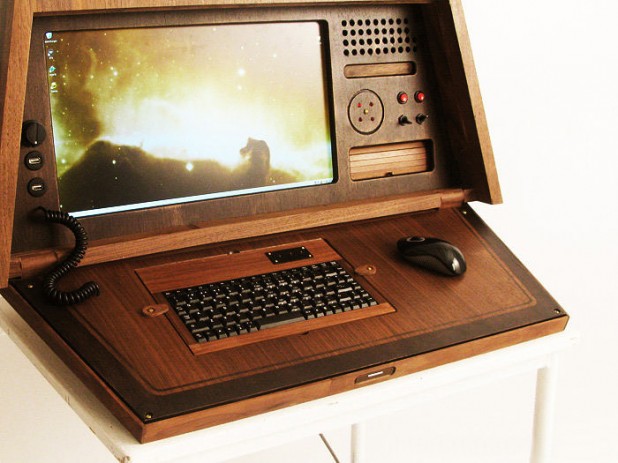 there's something unexplainably alluring about the retro movement, even more so if it's retro sci-fi. think Lost in Space (20th Century Fox/CBS, 1965-1968) and 2001: A Space Odyssey (MGM, 1968), and you will get the idea. the Sputnik 0667 as it is called, fits right into the ever sexy retro sci-fi category and you will be forgiven to think this might have came out from the set of Lost in Space. yes, is it that realistically retro sci-fi looking. however, beyond its retro-gorgeous look, is a fully-functional Windows-based personal computer.
created by one Swedish artist, Love Hulten, the Sputnik 0667 is the result of combining a 21st century computer with beauty of arts and crafts, as inspired by the 20th century and the old wooden hi-fi. Love even go to the extend of creating mock up product poster and advertisement for the Sputnik 0667. the wooden trapezoidal enclosure houses the display and livery of a modern working PC that includes Gigabyte GA-H55N-USB3 mini-ITX main board, Intel Core i3 550 3.2-GHz processor, Gigabyte GTX 460 graphics processor, 4-GB of memory and a 500-GB Western Digital hard drive.
Love's pursuit for attention to detail is relentless. the keyboard is embedded into a wooden panel that also function as a mouse surface for its wireless mouse, and this wooden panel can be folded up when not in use. on the back, the Sputnik 0667 has an old-school perforated board for ventilation, similar to those found in the older electronic equipment. check out a few more images, including the mock-up ad and poster of the Sputnik 0667 after the break. it is indeed a feel-good project not only because of it's retro sci-fi factor but it is simply super awesome.
PS: personally, i have also done a couple of retro sci-fi posters. though, i have no real products. one was based on an imaginary future personal space craft while the other, a medic-calvary recruitment drive poster.