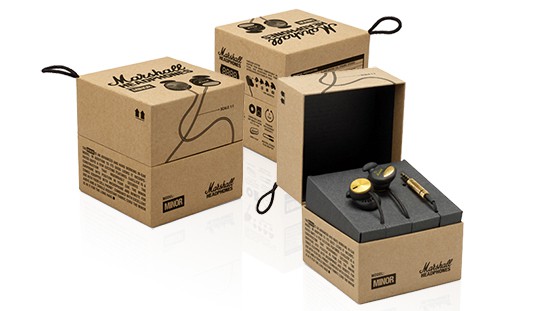 (image credit: Marshall Headphones) Marshall Headphones Minor | US$59.00 | www.marshallheadphones.com
finally it is here. Marshall Headphones has announced the availability of the long awaited Minor in-ear headphones, along with detailed information and photos. the Minor features a patented EarClick ear buds that touted to "ingeniously secures the earphone into position in your ear."
[ad#Google Adsense-text-468×60]
aside from the EarClick feature, the Minor will comes with a microphone and remote for use with mobile phone. the remote allows user to playback music, pause, skip between tracks as well as answering calls. another feature is the tangle-free fabric which is fast becoming a standard among headphones. it's high time that manufacturers start doing something about those irritable tangles associated with standard headphones cable.
drawing inspiration from their very own amps, the design of the Minor mimics the tele plug and the classic knobs of Marshall amps for its 3.5mm plug and outer casing of the earphones respectively. we are not sure about the sound until an audition but on the design front, we must say the Minor is looking good.
the Marshall Minor is available via its online store for $59.00 and comes packaged with four separate silicone size pads, Marshall cable clip and a neutral stereo plug adapter.
images of Marshall Headphones Minor