We were never the sort that keeps you in suspense on some products in development and that's why we are only bringing you this piece of news today, because it is the day when the new generation Windows, i.e. Windows 10, is being made official. Off the cuff, what the Redmond software giant's latest operating system has to offer is the promise of safer, innovative and updated experience of for "the supported lifetime of the device" and in the process, herald the era of a more personal computing. Doesn't make sense to you? Well, same here. Those are essentially marketing mambo jambo, so we shan't dwell in it. Existing folks running Windows 7, Windows 8.1, as well as Windows Phone 8.1 will get free upgrade to the new OS within the first year. But what can you expect of Windows 10? There are a lot going on, but here are a few key features:
Cortana
Well, you heard about it on Windows Phone, now Microsoft's iteration of Siri and Google Now is coming to PC, as well as tablet. It will learn your personal preferences and offers recommendations, provide quick access to information like sports results and important reminders – all through voice command, or typing, if you so desire.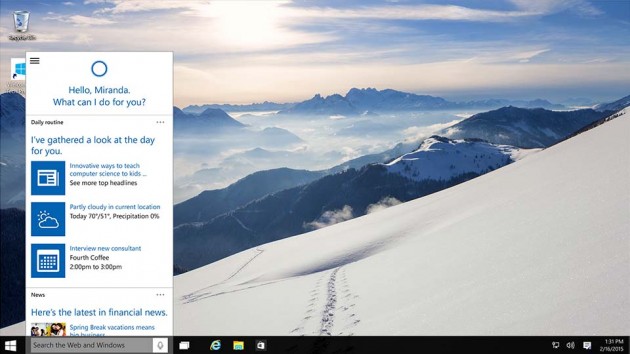 Project Spartan
We didn't hype about it, but the rumored new browser is here and still tentatively refer to as "Project Spartan". This advance browser allows annotation directly on the webpage, input through keyboard or pen, which can then be share with your friends. There is also a reading view that promised distraction-free reading by displaying the article in a simplistic layout both on and offline and then there is of course, the integration of Cortana for looking up things online. The browser also gets an aesthetic boost too. A less clutter feel, if we may add.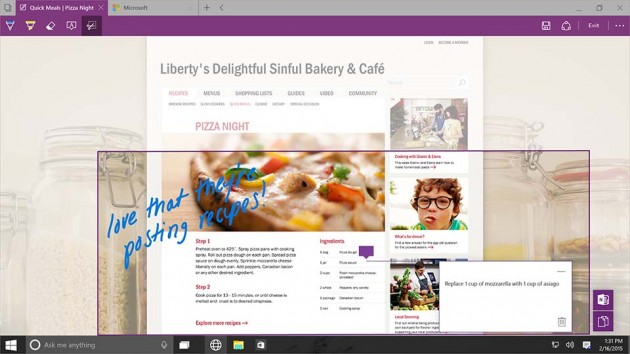 Xbox Live and Xbox app
Play games streamed from your Xbox One on your PC (but why?) or tablet, and record, edit and share greatest gaming moments with Game DVR, and playing new games with friends across devices, are some of the features Windows 10 has to offer with respect to gaming. We see as an induction of Xbox into PC, which should have been done a long time ago. But its better late than never. No? There is also the promise of "speed, efficiency and graphics capability" for games developed for the new DirectX 12 application programming interface in Windows 10 too.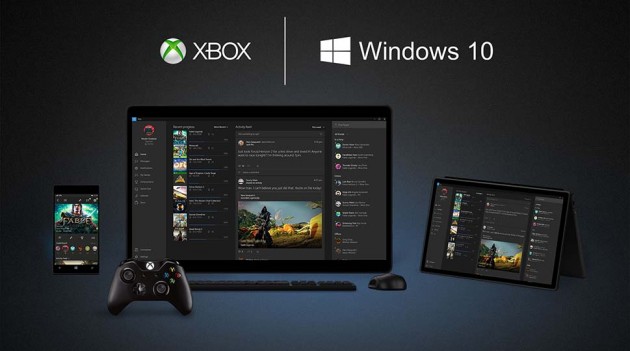 Office for Windows 10
Official universal apps are the key words here. Said to built for Windows from the ground up (isn't that so since the beginning of time?), these applications are optimized for touch and bears familiar features you have accustomed with Office.
Action Center
Well, this is where you get all the notifications in one place, found on the right hand side of the desktop. Like what's happening in Mac OS X Yosemite, it is synced across your devices, which means you get your phone notifications here too and vice versa, and it is also a place where you can toggle WiFi and other settings too. Very neat.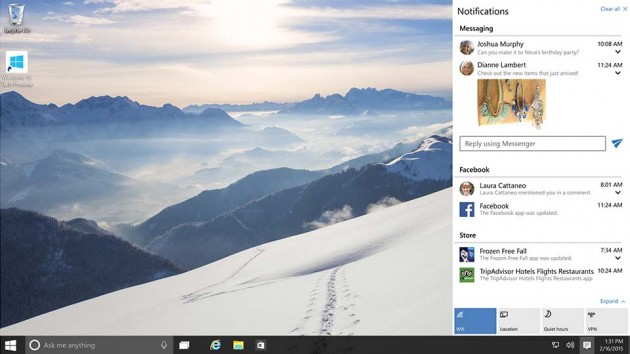 Continuum mode
Basically what this means is 'input adaption'. Meaning, when you switch from one input or mode to another, the application will behave appropriately. This is more applicable for transforming devices, such as the Surface Pro. When docked, apps are windowed just like they are on any PC, but when undocked, the OS prompts if you want to enabled tablet mode and if chosen, the app will transit into full screen for easier touch usage.
New universal apps
Sharing the same, consistent look and experience across the board for apps like Photos, Videos, Music, Maps, People & Messaging and Mail & Calendar, is what this feature is all about, which means the apps will look and feel the same from device to device, so you don't need to relearn or re-adapt to the same app on different devices. Basically, its user experience we are talking about here.
Well, there you have it. A summary of what to expect of the Windows 10. As always, features and specs are just the start. What really matters is reliability, which one can only judge when taking on a long test drive. As for us, all we ask for Windows is, don't make us look stupid. We want to use and not spend time troubleshooting, which until Windows 8.1, we are still doing so. Some fan boys may beg to differ, but the fact remains is, we spent less time trouble shooting Mac OS then we have on Windows. Though we can't say the same for Yosemite, unfortunately. Maybe its just our machines.