Besides revealing the brand new OS during the January 21st event, tech giant Microsoft also dished out two hardwares, which kind surprises most folks. They are a holographic eyewear dubbed HoloLens and a big-ass 84-inch 4K all-in-one (more like a TV set, really). The former is one that really shines, despite the influx of video eyewears in recent time. Now, the Redmond company is never known for beautiful hardware (Zune was an exception), but the HoloLens is different; it looks super sleek. Ok, it is nice, but does it really do? Well, how should we put it? Ok, how about this? Think Iron Man movies where Tony Stark uses almost exclusively hologram computer to work on his pet projects. That is what the HoloLens will offer you.
The device is a showcase of the latest OS's prowess, which the company described as "the world's first holographic computing platforms." It works much like the Meta's Spaceglasses, blending holographic images with augmented reality, complete with a major platform behind it. HoloLens is the first untethered holographic computer. It is a standalone device on its own. No wires and no phone or PC to hook up to. The eyewear features a see-through holographic high-definition lenses and spatial sound, covering the audio aspect. It is loaded with sensors, "a next-generation system on a chip" and a completely new category of processor known as Holographic Processing Unit (HPU) that makes the whole thing ticks. That's all we know for now. Microsoft is mum about what's on the inside. So in mean time, check out a product introduction video below to quench your curiosity.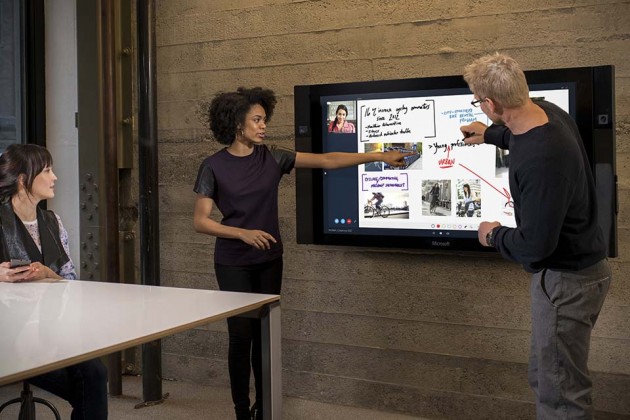 On a related news, Microsoft also debuted a huge 84-inch 'Surface Hub' (pictured above), which is essentially a very big size all-in-one computer. Surface Hub is more like the boardroom whiteboard of the future. It, naturally, will be running on Windows 10 and loaded with sensors. Also onboard are speakers, WiFi, NFC, microphones, cameras et cetera. The hardware harnesses the power of the new OS and the associated applications to turn your business meetings into one that worthy of the Jetsons. Though we have no idea when it will be available or how much it will cost.