Motorola now has its name on a piece of furniture. I kid you not. Announced a few weeks ago is a collaborative chair – an inflatable chair, with luxury inflatable designer (yup, that's a thing) MINNIDIP.
The cleverly named MINNIDIP x RAZR CH(AIR) is created to mark sixteen years since the launch of the original razr phone. Motorola thought that it would be nice to reinvent another icon from the early 2000s, which is the inflatable chair.
The good thing is, the design isn't lazy. More often than not, inflatable chairs are either in full-on transparent material or all-out opaque, and of rudimentary shape. The MINNIDIP x RAZR CH(AIR), however, is not.
It has both transparent and opaque, and of a whole new shape. The main structure – if we can call it that, is clear transparent while the sit is opaque in Blush Gold colorway inspired by the Blush gold version of the reborn razr (no, we did not feature that).
There's really nothing much to say about this furniture. After all, it is an inflatable chair. However, it is worthy to mention that the MINNIDIP x RAZR CH(AIR) comes with a custom "phone recliner" stand on its arm to prop up your razr phone for a hands-free conversation or scrolling through your social media.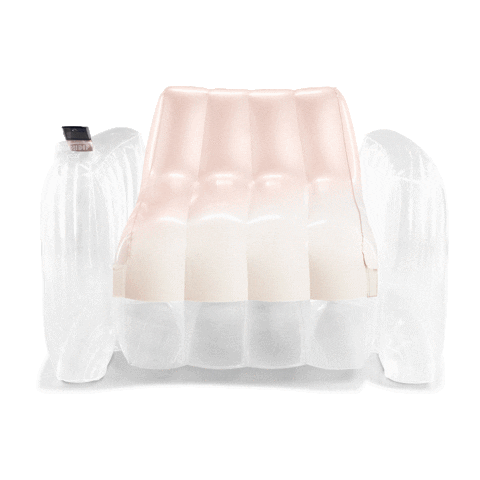 Oh, don't have a razr because, you can't bear to drop US$1,500 for one? No worries. For a limited time, buyers of the MINNIDIP x RAZR CH(AIR) Inflatable Chair will receive a US$200 discount code for razr, redeemable on motorola.com.
Sweet. Except that we do not know if it is still valid. As the price of the chair, it will cost you just 70 bucks. Available now on minnidip.com.
Images: MINNIDIP.