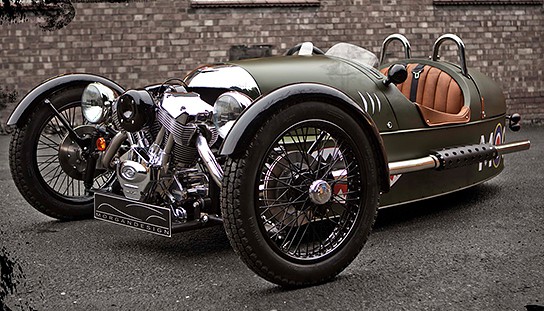 (image credit: Morgan Motor Co.) Morgan 3-Wheeler | £25,000.00 | www.morgan-motor.co.uk
travel back in time with this modern take of the first ever vehicle built by British automaker, Morgan Motor – the 3-Wheeler. it was considered an oddity when it first appeared in 1909 and it's still an oddity by today's standard. heck, it is odd when it has only three wheels and no roof! with cars growing in physical size, it is certainly odd to be seeing such as diminutive vehicle taking on the road once again. i for one, will be in constant paranoid of being run over by the bigger SUVs on the road.
[ad#Google Adsense-text-468×60]
the 3-Wheeler took its design cue from the airplane which is evident from its smooth flowing 'bullet' form of the front that ends with a beetle back tail at the rear, and its aircraft inspired instrumentation panel. the body work is in the form of steel tubular chassis wrapped in aluminum, complete with twin roll-over bars. the gorgeous flow of vehicle still allows ample space for a driver (of course!), a passenger and a trunk to contain your weekend getaway items.
first glance at the car, you won't missed the V twin engine from specialist engine builder S & S mounted prominently upfront – a perfect spot for an air-cooled engine. it is mated to a Mazda 5-speed gear box and transmitted to the rear wheel via a sturdy rubber V belt. the S&S engine is said to be capable of 115 horses, and that's pretty awesome considering that the 3-Wheeler weighs in at just an estimated half a ton.
we particularly like the decals that gives the 3-Wheeler a world war II fighter jet look, especially the shark nose over the olive green paint job. its a classic. nobody does that on a fighter jet anymore, so here your chance to relive the classic look – albeit it being a car, not a fighter aircraft. though, we are not sure if Morgan is offering these decals, which includes US military British Air Force inspired logos for free or at a cost.
the Morgan Motor 3-Wheeler will make its appearance in the Geneva Motor Show this week. do not mistake this as a concept, it is already been approved for roads in both the US and European and it is ready for taking at £25,000. tell me you doesn't want one. i would love to have one… if i can get over the fear of being run over by an SUV on the highway.
Morgan Motor via Wired