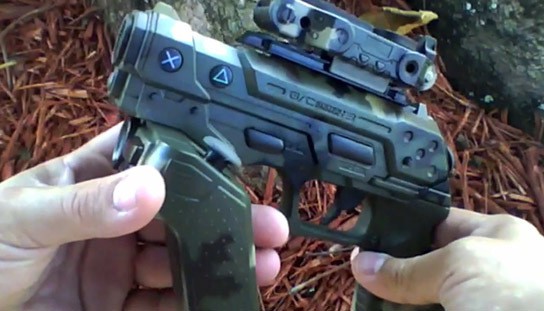 (credit: screenshot from Custom PS3 Wireless Namco Gun Controller Mod video)
Netmoe is a serious Call of Duty gamer and he demand the best out of his gaming controllers which prompted him to custom this PS3 wireless Namco gun controller. while giving his NERF gun a paint job, he thought why not mashed up a NERF gun with a PS3 wireless controller? however, after accessing the NERF gun, he found it to be an unsuitable candidate. eventually, he managed to source a Namco wired PS3 gun controller which he proceeds to gut it and squeeze the innards from a PS3 wireless controller in. Netmoe even topped it off with a nice camouflage paint job and a NERF gun rail which enables it to attach a NERF gun sight. Netmoe's Namco gun-PS3 dual shock controller mashed up has all the buttons of the original PS3 controller plus an additional 'X' button located on the left side of the gun handle allowing for running and jumping at the same time. check out the video of Netmoe's build process after the jump.
Netmoe DIY everything himself including soldering of the twenty contacts on the PS3 controller PCB and sanding down the PS3 buttons to get them to flush with the Namco gun. Netmoe did the works on the custom controller during his spare time which spanned over four weeks. you folks should really check it out. i love FPS, especially Call of Duty but i'm lacking of the patience and skills required to do such custom controller. all i can do is to read and view in admiration… and say such things like: "if only i have…" a big IF.