there are a variety of 3D printers but most are either too expensive or takes a rocket scientist to use, but New Matter, together with Frog Design, wants to change that the MOD-t 3D Printer. it started at an incredible low price of $149 when it hit Indiegogo a couple of days ago, but that reward level, along with the second tier early adopter reward at $199, have since been snapped up and it is still quite affordable at $299, which you will receive a MOD-t plus two additional 1-kg spool of PLA filament, with shipment expected to be in May 2015. price point aside, the MOD-t also stands out as a printer with a pretty industrial design, comprising of what looks like a sheet metal base and a clear enclosure to let you see the print progress.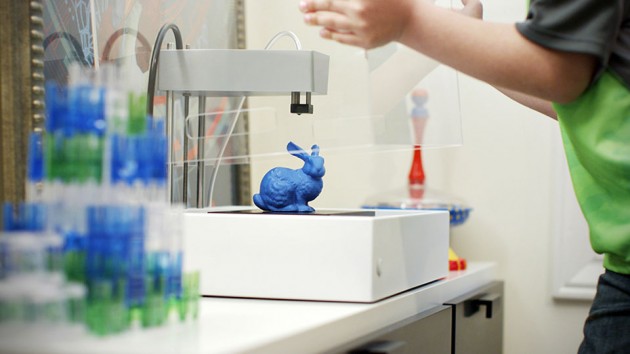 the device is presented (note we refer it to as 'device' and not 'machine') has a minimalistic appeal, but what this device is really touting is the software it has to offer. it has developed an extremely easy to use interface where you could down the design you desire from a curated collection, tweak it as you would with a photo such as changing the size, add signatures, preview the different color filaments and more, and finally, sending it to the MOD-t once you are satisfy with the product. you can even share your tweaked products with friends and they in turn, can print it out for themselves. the curated collection part is where thing gets interesting. another proof that this isn't a geek's toy is, it can be operated directly from New Matter marketplace website, your desktop computer or even from a mobile device such as a tablet.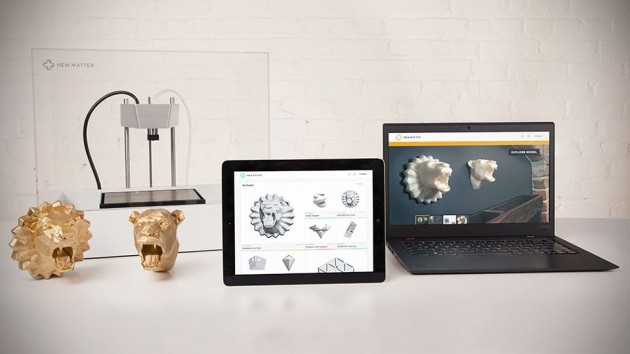 products to be printed can be beamed to the printer wirelessly via WiFi, which means there are not intimidating cables (other than the power cable) to deal with. New Matter and Frog Design are touting a 3D-printable wares store, which is much like a iTune store-cross-Etsy, where you can purchase professionally designed items, tweak and personalized them, and print them right at home. if love to get your hands on one, then head on to MOD-t 3D Printer Indiegogo campaign site to make your pledge. in the mean time, you may want to scroll down for a product video to learn more.