when free of constraints like feasibility and price, automobile designers can often create pretty crazy things. then again, not many designers are as lucky as three young Volkswagen designers who were given the free rein to dream up a virtual concept car for Sony Playstation 3's Gran Turismo 6 game. the Volkswagen GTI Roadster Concept, as it is known as, is a winning design – handpicked by VW's Head of Design, Klaus Bischoff and the creator of the Gran Turismo series, Kazunori Yamauchi – in an in-house competition to design a vehicle to mark the 15th anniversary of the Gran Turismo franchise. VW must be pretty proud of this virtual car, because it has turn this virtual concept car into a real, metal-and-oil concept car, which was unveiled at the Wörthersee GTI meeting in Austria.
based off the Design Vision GTI seen last year, the GTI Roadster Concept is powered by a potent 3.0-liter V6 Biturbo TSI engine, pushing out 503 PS, along with 560 Nm of torque. it is mated to a seven-speed DSG gearbox that puts the power to all four wheels (yes. it has 4MOTION), enabling the car to go from zero to 62 miles an hour (100 km/h) in a scant 3.6 seconds and on its way to a top speed of 190 mph (306 km/h). stopping comes from ceramic brakes that hides behind its enormous 20-inch wheels, wrapped in 235/35 R20 and 275/35 R20 rubbers. from the images, the ride appears to be longish, but it is actually an illusion attributed by a broader width (1,894 mm) against a shorter overall length of 4,128 mm, and it has an obvious, super low height at just 1,090 mm.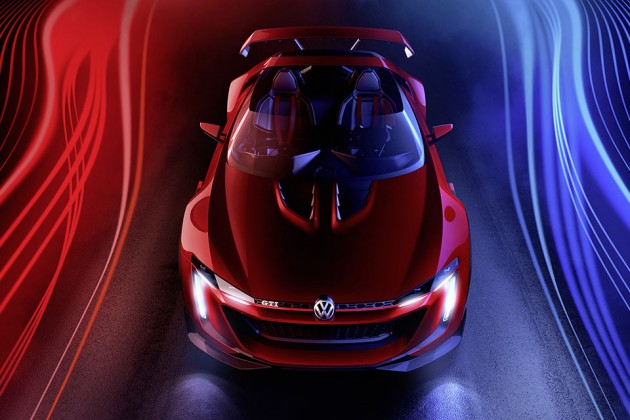 the car is dressed in Gran Turismo Red and has a black- and anthracite-themed interior, GTI red stitching, a pair of bucket seats with five-point safety harnesses. the Volkswagen GTI Roadster Concept is definitely a head-turner, but unfortunately there is no immediate plans for production version, but Gran Turismo 6 players will get to drive it virtually when it is available for download sometime starting in mid-June. scroll down for a GTI Roadster Concept's Gran Turismo 6 teaser video and also a short clip of the unveiling at Wörthersee.