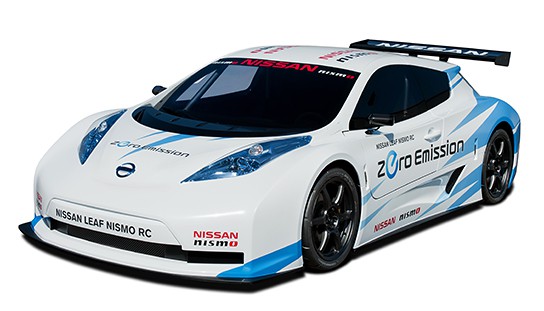 (credit: Nissan) click on above image to view bigger image
this year, Nissan will prove that racing sports can be green too. set to debut at the 2011 New York International Auto Show is the Nissan LEAF NISMO RC. just in case you are wondering what the 'RC' stands for, it stands for Racing Competition. as the name suggest, the Nissan LEAF NISMO RC is based on the current production LEAF electric car but prep for serious racing by NISMO, Nissan's motorsports arm.
[ad#Google Adsense-text-468×60]
Nissan Americas chairman, Carlos Tavares explains:
[quote style="boxed"]Combining the talents of NISMO, Nissan's world renowned motorsports group, and engineers behind some of the company's Super GT and FIA GT1 race teams, the Nissan LEAF NISMO RC will serve as a rolling laboratory for the accelerated development of EV and aerodynamic systems, as well as a platform for the development of new green motorsports series,[/quote]
the Nissan LEAF NISMO RC sports a carbon fiber monocoque tub and body panels with removable front and rear sections, fixed windows, LED headlights and taillights and adjustable rear wing. instead of the familiar four doors, the RC is a two-door vehicle that has a shorter wheelbase but is longer and wider than it's production counterpart. another distinctive difference is the height. the RC sits 13.8 inches lower at 47.2 inches, than the production LEAF and has a ground clearance of just 2.4 inches.
since it is made for racing, you can expect bare essentials within the interior. there is no rear seat, trunk, audio system, navigation, carpeting et cetera. in short, creature comfort is non-existence in this race version. in the middle of the car sits the 48-modules battery pack system, a high response 80 kW AC synchronous motor and inverter with transmission to the rear wheels, as oppose to the production LEAF's front wheel drive. the electric motor generates 107 horsepower and 207 lb-ft (280 Nm) of torque that is capable of propelling the RC from standstill to 100 km/h mark in just 6.85 seconds with a top speed of 93 mph (150 km/h).
the Nissan LEAF NISMO RC has a racing time of 20 minutes which may not sound a lot but it is, nevertheless a good start. the development of the prototype Nissan LEAF NISMO RC may spur other manufacturers to do so and who knows, we may have a full fledge Grand Prix Electric sooner than we think. Nissan stated that its new electric race vehicle "will likely make a series of special demonstration appearances at various motorsports venues in 2011" and the company is exploring the possibility of pioneering the zero emission competition spec series in future.
below is an outline of the key specifications of the Nissan LEAF NISMO RC (Racing Competition).
| | |
| --- | --- |
| Motor | high-response 80 kW AC synchronous electric motor |
| Drive | mid-mounted, rear-wheel drive |
| Transmission | single speed reducer, 7.9377.1 final gear ratio |
| Wheels/Tires | 18×8-inch six-spoke NISMO racing wheels with P225/40R18 Bridgestone racing tires |
| Suspension | double-wishbone front and rear |
| Brakes | Cooperative Regenerative braking system; 4-wheel disc brakes with driver-adjustable brake balance |
| Steering | electric power steering |
| Wheelbase | 102.4 inches (2.60 meters) |
| Length | 175.8 inches (4.47 meters) |
| Width | 76.4 inches front (1.94 meters); 75.2 inches rear (1.91 meters) |
| Height | 47.2 inches (1.2 meters) |
| Ground clearance | 2.4 inches (6 centimeters) |
| Weight | est. 2,068 lbs (938 kilograms) |
| Weight distribution | 40 front; 60 rear |
| Safety | full-roll cage, racing seat, six-point full racing harnesses, fire suppression system |
| Acceleration 0 – 62 mph | 6.85 seconds |
| Top speed | 93 mph (150 km/h) |
| Running time | 20 minutes under racing conditions |