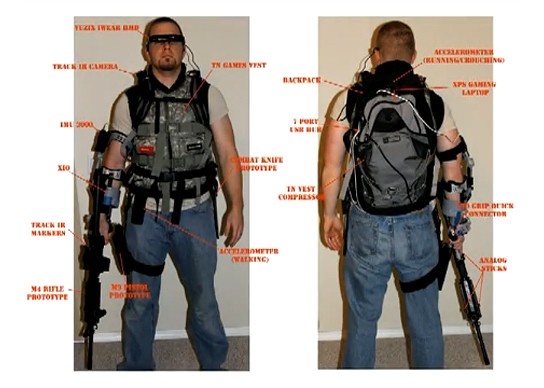 i am not sure if all first person shooter (FPS) fans will be rejoice over the
Self Contained Virtual Reality Gaming and Training System
. developed by Novint, this system is dubbed the XIO is a gaming/simulation rig that allows FPS gamers to totally immerse themselves in middle of the virtual reality battle field. until now, gaming is a couch potato kind of thing, but this system actually makes the gamer interacts with the game physically, thereby, potentially causing the user to sweat it out. is it a good thing or bad thing?
[ad#playasia-2]
the system consists of head mounted display, vest, advanced gun grips, accelerometers and sensors that track the users movement such as walking, jumping, crouching et cetera. it can even detects if the user is lopping a grenade and in the event that the grenade 'strikes' the user, the user will feel in via the vest haptic force feedback. check out the detail walkthrough of this awesome system after the break. this coming soon system is designed to work with about 50 PC game titles including the widely popular Half Life. however, using the Novint's new F-Gen drivers, the XIO can be used to play any PC games.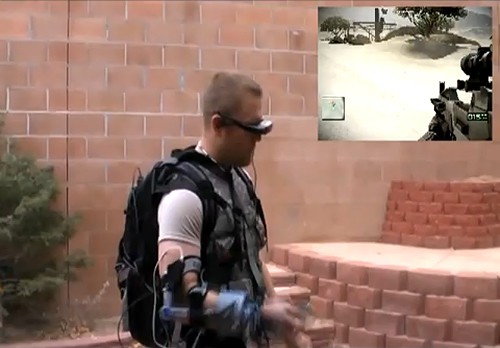 sounds exciting huh? i guess if this system finally hit the stores, you'd better have a space wide enough to use it. i am sure you don't want to risk running into a wall, do you? in any case, it might not appeal to all FPS fans cos' not everyone are eager to get their 'hands dirty' by doing all the physical movements. movements like running, kicking and jumping seems fine when using your fingers, but seriously, doing it physically? that's is a whole different story. but i do, however, see an application in the military.
Novint via Geeky Gadgets