Bordeless display is a mark of futuristic hardware, but whether is it practical on our hands on devices like a smartphone is remain to be seen. However, the unknown does not deter nubia, a sub-brand of handset giant ZTE Corporation, from taking a bold dive into the first, true bordeless design. Dubbed Z9, this latest flagship smartphone is void of bezel on the long sides of the phone and boast some serious tech that makes it worthy of being called a futuristic phone. Equipped with a 5.2-inch Full HD display with arc Refractive Conduction (aRC) technology which is said to offer better visual effects over its competitions. While borderless may prove to be a nuisance when use with handheld touchscreen device, ZTE said that users of the Z9 will find it easier to hold as it is more ergonomic, which might be due in part that the handset is longish.
It appears to be narrower, thanks to the lack of side bezels which probably makes it easier to grip. In a development not relating to the bezel-less design, is a gesture-based control along the edge of the display. Known as Frame interactive Technology (FiT), this innovative control technology allows you to execute basic control of the phone via the grip as opposed to using buttons or touching the screen. Examples of such 'gesture-based controls' include pre-defined grip to unlock the phone, squeezing the sides of the phone enable screenshot, sliding along the sides to adjust the display brightness, and even firing up the camera by placing four fingertips on the edge and tapping with one to capture the image. nubia said the control enhancements reduce the average smartphone process by 2.7 steps when compared to traditional way of accessing those functions.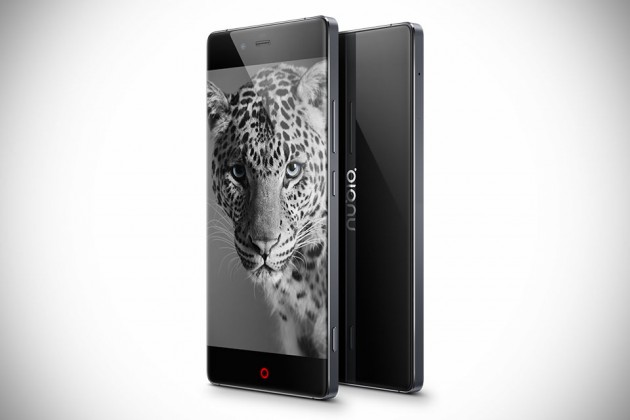 Clockwork is provided by Snapdragon 810 octa-core processor which packs four 2.0GHz ARM Cortex A57 chip and four 1.5GHz ARM Cortex A53 chip, while graphics duty is handled by an Adreno 430 GPU. Other details include up to 4GB RAM, up to 64GB onboard storage, 16MP main shooter with OIS capable of 4K video recording, a 8MP front-facing item with 80-degree wide-angle lens, LTE radio (covers both TD and FDD), dual-band wireless b/g/n/ac, Bluetooth 4.1 technology, DTS with Dolby dual decoding, Dolby 7.1 sound, AK4961 audio chip, dual SIM support, 2,900 mAh battery, and finally, there's the usual garden variety of sensors.
Three models are being offered: 'classic' with 3GB model and 32GB ROM goes for 3,499 RMB (US$564), 'elite' which has 4GB RAM and 64GB storage priced at 3,999 RMB ($645), and a fingerprint scanner-equipped 'exclusive' version which will run you back at 4,499 RMB (US$725). Pre-order starts in China through nubia experience stores or online via nubia web store.